Well Drillers - Hubler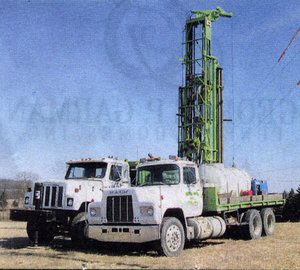 Click On Image To Enlarge
In 1897 Seymore Hubler, began drilling wells under the company name of H. S. Hubler & Son. The son was Forest Hubler. Eventually Forest took over the company and changed the name to F. J. Hubler & Sons.

When the original business was started, the company drilled with a rig that was powered by a horse that walked in a circle. Eventually this was replaced with a steam powered drill which was later replaced by a gasoline powered rig.

Forrest's sons were James and William. After the death of their father they continued drilling wells as separate enterprises. Jim operated out of Port Royal and Bill out of Spruce Hill.

Upon the retirement of Jim about 1980, his sons James Jr. and William took over the drilling business and changed the name to Hubler Bros. Wells and Pumps. James Jr. was in charge of the drilling operation and William in charge of the pump portion of the business.

In 2002 the drilling portion of the Port Royal business was sold to Ryan McWilliams who operated as McWilliams Well Drilling.

Eventually the Spruce Hill portion of the business was acquired by Bill's grandson James Campbell and was operated as Hubler and Campbell Well Drilling Co.
| | |
| --- | --- |
| | Contributed by ray on 7/24/16 - Image Year: 1948 |
| | Contributed by rkohler3 on 7/24/16 - Image Year: 1908 |
| | Contributed by rkohler3 on 12/19/19 - Image Year: 1935 |
| | Contributed by rkohler3 on 12/27/19 - Image Year: 1950 |
| | Contributed by rkohler3 on 3/7/13 - Image Year: 1940 |
| | Contributed by rkohler3 on 3/14/13 - Image Year: 1953 |
| | Contributed by rkohler3 on 12/17/19 - Image Year: 1954 |