Barber - Long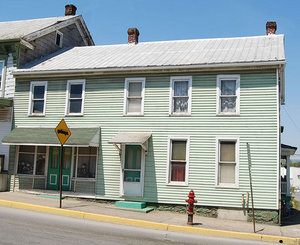 Click On Image To Enlarge
Merton Wayne "Mert" Long was a barber in Port Royal during much of his adult life.

In 1912 he purchased a shop from Lawrence Elliott and operated it for the next forty-four years. After purchase of his Port Royal shop, the following note appeared in the July 17, 1912 issue of the Port Royal Times: "The interior of M. W. Long's barber shop at Port Royal has been painted and papered and the exterior has also been painted. A handsome new cup rack has been put in the shop and now Mert has the most up-to-date shop in Juniata county."

The shop may not always have been at this location as the following item from the Oct. 22, 1913 issue of the Port Royal Times would indicate: "The fixtures of the barber shop, which for several years has been operated by Lawrence Elliott in Port Royal have been sold to M. W. Long. For the present, the shop is now closed as well as the pool room which was run in connection with the barber shop."

Upon Mert's retired, this shop would be owned by Ken Fronk and Earl Willi.
| | |
| --- | --- |
| | Contributed by rkohler3 on 3/7/13 - Image Year: 1940 |
| | Contributed by rkohler3 on 3/4/13 - Image Year: 1955 |
| | Contributed by rkohler3 on 3/5/13 - Image Year: 1927 |
| | Contributed by rkohler3 on 3/6/13 - Image Year: 1930 |
| | Contributed by rkohler3 on 3/13/13 - Image Year: 1949 |
| | Contributed by ray on 3/4/13 - Image Year: 1960 |