John A. "Jack" WELSHONSE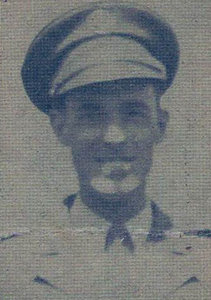 Click On Image To Enlarge
OBITUARY for JOHN A. "JACK" WELSHONSE

PORT ROYAL: JOHN A. "JACK" WELSHONSE, 81, of Port Royal RR3, Tuscarora, died at 6:05 am Sunday, October 28, 2001, at Locust Grove Retirement Village.

Born February 23, 1920, in Woodlawn, he was the son of the late Henry C. and Martha P. (Williams) Welshonse. His wife, Margaret "Peg" Welshonse, died on October 14, 1997.

Surviving are: three sons, John A. Welshonse Jr., Mifflintown RR5, F. Scott Welshonse, Mifflintown RR3, and Timothy J. Welshonse, Port Royal RR3; three sisters, Bertha Snavely, Millerstown, Sarah Louise DeLancey, Port Royal RR3, and Hazel Keister, Thompsontown; and four grandchildren.

He was preceded in death by four sisters, Betty Welshonse, Donna Baughman, June Welshonse and Dan Welshonse.

He was a U. S. Army Veteran serving in WW II with Merrill's Marauders in the C.B.I. Theater of Operations, and later was a Conrail track foreman, retiring in 1980 after 42 years of service.

He was a member of the Tuscarora Church of the Brethren, the Juniata County Sportsmen's Association and the Local 3002 Brotherhood of Maintenance of Way. He enjoyed hunting, fishing and woodworking.

His funeral service will be held at 10 am Wednesday at Guss Funeral Home, 20 South Third St., Mifflintown, with the Rev. Charles Sheaffer officiating. Interment will be in New Church Hill Cemetery, Port Royal, where complete military honors will be provided by the Juniata County Veterans Council.

Friends may call 7-9 pm Tuesday at the funeral home. In lieu of flowers, memorial contributions may be made to: Tuscarora Church of the Brethren in care of Cathy Eaton, treasurer, RR2, Mifflintown, PA, 17059, or to the charity of the donor's choice.
| | |
| --- | --- |
| | Contributed by rkohler3 on 2/10/13 - Image Year: 1945 |