John Wilbur TAYLOR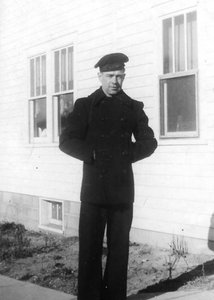 Click On Image To Enlarge
OBITUARY for J. WILBUR "WIB" TAYLOR

J. WILBUR TAYLOR, 84, of 428 W. Fifth St., Lewistown, died at 1:55 a.m. Friday, December 20, 1991, at Valley View Haven, Belleville.

Born January 3, 1907, in Spruce Hill Township, Juniata County, he was the son of the late Norman L. and Edna [Brackbill] Taylor. His wife, Nellie [Landis] Taylor, whom he married April 30, 1930, survives.

Also surviving are: a brother and two sisters, Warren "Tobe" Taylor, Mifflintown, Mrs. Marlin (Miriam) Wert, Port Royal RD1 and Eleanor Boyer, Lakehurst, NJ.

He was preceded in death by two brothers, Harold and Bernal Taylor.

He was a spinner at the American Viscose Corp for 34 years. He was a 1925 graduate of Port Royal High School.

He was a World War II U. S. Navy veteran, having served in the Pacific area. He was a member of the Port Royal Lutheran Church and attended Valley View Haven Chapel, Belleville.

Services were held Tuesday at the Rex Funeral Home, Port Royal, with the Rev. steven Nelson and the Rev. Eric Renno officiating.

Interment was in the New Church Hill Cemetery, Port Royal.

Military graveside services were conducted by the Juniata County Veterans Council.
| | |
| --- | --- |
| | Contributed by rkohler3 on 2/5/13 - Image Year: 1945 |
| | Contributed by rkohler3 on 2/8/13 - Image Year: 1945 |