H. Wayne HAUBERT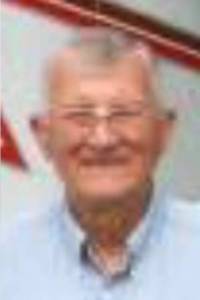 Click On Image To Enlarge
Wayne is founder, owner and operator of Blue Valley Industries in Port Royal. Wayne married Norma Madeline Walters.

OBITUARY for H. WAYNE HAUBERT
H. Wayne Haubert, 94, of Mifflintown, passed away at 9:55 AM on Saturday, Dec. 12, 2020 at his wife?s residence in Lewistown.

Born on Nov. 28, 1926 in Walker Twp., Juniata Co., he was a son of the late Robert and Anna (Miller) Haubert.

He is survived by his wife, Yon Hui Elsesser - Haubert; children, Linda Matushesky and her husband Vince of New Cumberland, Daniel Haubert, and Mitchell Haubert, both of Mifflintown; three grandchildren, Nathan Matushesky and his wife Amy of New Jersey, Liza Haubert Balough and her husband Eric of Virginia, and Olivia Haubert Wise and her husband Skylar of Port Royal; and several great grandchildren.

In addition to his parents, he was preceded in death by a brother, Robert Haubert, making him the last of his generation.

Mr. Haubert was a 1944 graduate of Juniata Joint High School in Mifflintown and honorably served our country in the U.S. Navy during World War II.

From 1972 until the present time, Wayne was the owner and operator of Blue Valley Industries in Port Royal.

His memberships included the Quiet Bird Man, Experimental Aircraft Association, the Aircraft Owners and Pilots Association, and the Union Lodge No. 324 F&AM in Mifflintown.

The love of his life was aviation: flying airplanes, fixing airplanes, and talking about airplanes.

His other passion was his work at Blue Valley Industries and in earlier life, enjoyed deep sea fishing and traveling all over the world. Public Graveside Services will be held at 10 AM, Tuesday, Dec. 15, 2020 at the Lind Memorial Cemetery in Lewistown.

In lieu of flowers, memorial contributions in Mr. Haubert?s memory can be made to the Friendship Fire Company No. 1, P. O. Box 274, Port Royal, PA 17082.

Arrangements have been entrusted to the Brown Funeral Homes, Inc., 100 Bridge Street, Mifflintown.

Online condolences and tributes can be shared with the family at www.brownfuneral homesinc.com.
| | |
| --- | --- |
| | Contributed by rkohler3 on 2/3/13 - Image Year: 2013 |