Thomas Daniel SNYDER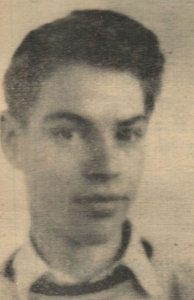 Click On Image To Enlarge
OBITUARY for THOMAS DANIEL SNYDER

FAIRFAX, VA - Thomas Daniel Snyder, 78, former electronics engineer specializing in communications equipment for the federal government, died of complications related to diabetes on April 7 [2004] at Fairfax Nursing Center in Virginia.

Mr. Snyder was raised in Port Royal, and graduated from high school there, before joining the the Navy Submarine Service in 1943. He served in the Pacific theater as a radioman on the USS Loggerhead and the USS Steelhead. He and two companions were transferred off the USS Bullhead, just two hours before she went on her final voyage, where she was sunk with all hands on August 6, 1945, the last submarine and one of the last US. vessels to be sunk in WWII.

After the war, he worked as a line man on the PA Railroad before graduating from Milwaukee School of Engineering in 1951.

He joined the State Department in 1952, and served in Iran as a communications technician until 1954, commuting to his post on his generally faithful steed Dynamite, an Arabian stallion.

He and his wife were stationed in Cyprus, Belgrade, and Frankfurt during the late 1950s, and have lived in Fairfax, Virginia since then.

He served as an electronics engineer for the US Dept. of Defense at Warrenton Training Center beginning in 1960.

He received a Meritorious Award for outstanding design in electronics equipment in 1969. He retired from the Central intelligence Agency in 1985, and then worked at American Electrical Labs. He held patents in the communications field.

He was a member of numerous professional organizations, including the American Association for the Advancement of Science, IEEE, Optical Society of America, and the American Metric Association.

He was a member of the Catholic War Vets, and attended Holy Spirit Church.

Well known among neighbors, friends and community organizations for his mechanical abilities and willingness to help, he put his extensive knowledge of vintage tools and old-time practical arts to work at Colvin Run Mill in Vienna, VA as a volunteer. He demonstrated blacksmithing, mill operations, and other old time trades during his more than 15 years of volunteer work there.

Survivors include his wife of 49 years, Mary Ann, their two children Tom and Ellen, two grandchildren, two sisters and one brother.

Funeral Mass will be held at 10:30 a.m. Tuesday at Holy Spirit Church 8800 Braddock Road, Annandale, VA 22003-4165. Internment will follow mass at the cemetery adjacent to the funeral home.

The family will be receiving visitors: 2-4 p.m. and 7-9 p.m. Monday (there will be prayers at 7) at Fairfax Memorial Funeral Home, 9902 Braddock Road, Fairfax, VA 22032.

Expressions of sympathy may be sent to his wife at: Mary Ann Snyder, 4246 Worcester Drive, Fairfax, VA 22021.
| | |
| --- | --- |
| | Contributed by rkohler3 on 8/13/19 - Image Year: 2003 |
| | Contributed by ray on 1/31/13 - Image Year: 1945 |
| | Contributed by rkohler3 on 8/13/19 - Image Year: 1943 |