Alice Romaine (EMERY) PARSONS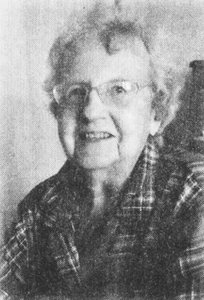 Click On Image To Enlarge
OBITUARY for ALICE R. PARSONS

Alice R. Parsons, 88, of Port Royal, passed away Friday, Jan. 13, 2017, at Ohesson Manor, Lewistown.

Born June 24, 1928, in Port Royal, she was the daughter of the late Leonard E. and Hazel D. (Smith) Emery. Her husband, Hubert E. Parsons, whom she married on March 29, 1947, survives.

Also surviving are the following children: Susan J. Parsons, of Mechanicsburg, Patricia P. Spadea and husband, Frank, of Mechanicsburg, Amy R. Parsons, of Mifflin and her companion, Larry Spence, of Warren, and Brian S. Parsons and wife, Mary, of Mechanicsburg.

There are four surviving grandchildren, Travis Gross, Tessa Gross, Jonathan Spadea and Josie Parsons, as well as one great-granddaughter, Lilianna Spadea.

She was preceded in death by two sisters, Phyllis Leonard and Patricia Schindler and a grandson, Dustin Gross.

Mrs. Parsons was a 1946 graduate of the Tuscarora Valley High School, Port Royal.

Alice was an accomplished pianist/organist who always played from her heart.

In her younger years, she played for the Port Royal Presbyterian Church, where she was a member. She also served as an organist for the former Stimmel Funeral Home, as well as the Rex Funeral Home.

She enjoyed bird watching, reading mystery novels and faithfully keeping a diary.

Loving to dine out with her family, as well as spending quality time with her children and grandchildren, Alice was very influential in all their lives.

Alice's funeral service will be held 1 p.m. Tuesday, Jan. 17, 2017, at the Rex Funeral Home in Port Royal with Pastor Robert E. Wertz officiating.

Interment will follow in the Westminster Presbyterian Cemetery, Mifflintown.

Family will receive friends from noon until the time of service on Tuesday.

In lieu of flowers, memorials may be made in Alice's name to Juniata County Food Pantry, 114 N. Main St., Mifflintown, PA 17059.
| | |
| --- | --- |
| | Contributed by rkohler3 on 1/27/13 - Image Year: 1945 |
| | Contributed by ray on 1/27/13 - Image Year: 1945 |
| | Contributed by rkohler3 on 1/16/17 - Image Year: 1946 |