Hubert G. "Hubie" PARSONS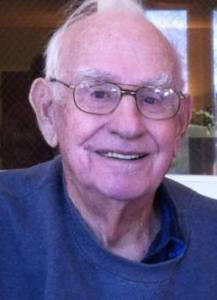 Click On Image To Enlarge
OBITUARY for HUBERT E. "HUBIE" PARSONS

Hubert E. "Hubie" Parsons, 96, formerly of Port Royal, died Friday, Jan. 22, 2021, at Brookline Manor, Mifflintown.

Born Oct. 26, 1924 in Port Royal, he was the youngest child of the late Archie and Lula (Rorer) Parsons and was the last of his immediate family having been preceded in death by his five siblings, Mildred, Thelma, Calvin, Lena and Roy.

He was also preceded in death by his wife, Alice (Emery) Parsons, whom he married March 29, 1947, and a grandson, Dustin Gross.

He is survived by four children, Susan Parsons of Mechanicsburg, Patricia Spadea and husband, Frank, of Camp Hill, Amy Parsons of Mifflin, and Brian Parsons and wife, Mary, of Mechanicsburg, four grandchildren, Jonathan Spadea and wife Kristen Eakin-Spadea, Travis Gross, Tessa Gross, and Josie Parsons, and four great-grandchildren, Aithan Eakin, Lilianna Spadea, Emma Spadea and Rocco Spadea.

He was a proud veteran of the United States Navy, having 20 years of service during World War II, Korea, and Vietnam.

He retired from the Mechanicsburg Naval Depot where he was a supply consultant/analyst.

He was a member of the V.F.W., Mifflintown.

Hubert was devoted to his faith in the Lord, attended the United Church of God and cherished the fellowship he found with his church family.

He enjoyed the a.m. coffee klatch at Barney's with all his Port Royal buddies. He also enjoyed gardening, the outdoors, and shopping for a good bargain.

His funeral is private and will be held at the convenience of the family with John Massey officiating. Interment will be in Westminster Presbyterian Cemetery, Mifflintown.

A memorial service for the extended family and friends will be held at a later time.

In lieu of flowers, memorial contributions may be made to PA Wounded Warriors, 1117 Country Club Road, Camp Hill, PA 17011.

Guss Funeral Home, Inc., 20 S. Third St., Mifflintown has care of the arrangements. Condolences may be left at www.gussfh.com.
| | |
| --- | --- |
| | Contributed by rkohler3 on 1/26/13 - Image Year: 1945 |
| | Contributed by rkohler3 on 1/26/13 - Image Year: 1944 |
| | Contributed by rkohler3 on 1/26/13 - Image Year: 1944 |
| | Contributed by rkohler3 on 1/27/13 - Image Year: 1945 |
| | Contributed by rkohler3 on 1/27/13 - Image Year: 1945 |
| | Contributed by rkohler3 on 10/25/14 - Image Year: 2014 |
| | Contributed by rkohler3 on 11/11/19 - Image Year: 2019 |