William Lee "Bill" KOONS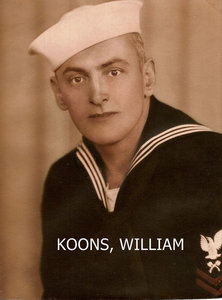 Click On Image To Enlarge
OBITUARY FOR WILLIAM LEE KOONS

William Lee Koons, 59, of Port Royal, a borough councilman, died unexpectedly at his home Saturday night [13 Jul 1968] of a heart seizure. He was born Feb. 1, 1909, the son of the late Charles and Mary Jane Calhoun Koons.

He is survived by his wife, Mrs. Reba G. Koons, one son William Edward at home; and two step-daughters, Mrs. Ernest (Jane Ann) Foltz of Emmaus and Mrs. William (Mary Martha) Manbeck of Mifflintown.

Also surviving are two brothers, Wayne Koons of Grafton, W.Va., and Harold F. Koons of Mifflintown, RD; four sisters, Mrs. Edwin (Viola) Swartz of Walnut, Mrs. Karl (Margaretta) Prye of Liverpool, Mrs. Harry (Alma) Clark and Mrs. Franklin (Doris) Long, both of East Waterford; and four step-grandchildren.

Mr. Koons had been a patternmaker at the former Lewistown Foundry and was a member fo the Port Royal Presbyterian Church, the Juniata County Sportsmen Association, the Port Royal Lions Club, the Friendship Fire Co. of Port Royal, Loyal Order fo the Moose 143 of Lewistown, and the Pattern Makers' League of North America. He was a member of past commander of American Legion Post 298 of Mifflintown and a Navy veteran of World War II.

Services will be held Wednesday morning at 10:30 o'clock in the Stimmel Funeral Home at Port Royal in charge of his pastor, Rev. Douglas Heslip, assisted by former pastor, Rev. Eugene McCahan.

Interment will be made in the new Church Hill Cemetery near Port Royal. Military services will be held at the cemetery in charge of the Juniata County Veterans Association.
| | |
| --- | --- |
| | Contributed by ranjude on 3/18/21 - Image Year: 1928 |