William W. KAUFFMAN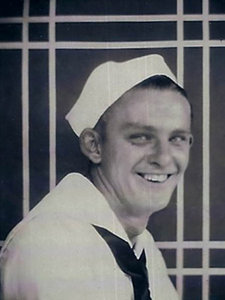 Click On Image To Enlarge
OBITUARY for WILLIAM W. KAUFFMAN

PETERSBURG - Rev. William W. Kauffman, 75, of Petersburg RR1, formerly of Port Royal, died at 10:45 a.m. Wednesday, July 12, 2000, at his home.

Born Feb. 22, 1925, in Port Royal, he was the son of the late Oliver W. and Barbara Matilda (Walters) Kauffman.

He is survived by children, William Alexander Kauffman, Lyons, N.Y., Gayle Ewing, Petersburg RR1. and Nancy Embly, Jacksonville, N.C.; a sister, Mrs. George (Frances) Crimmel, Port Royal; and seven grandchildren.

He was preceded in death by a sister, Barbara Edna Metzgar and a half-sister, Catherine Wagner.

He was a U. S. Navy veteran of World War II.

He was a graduate of Tuscarora Valley High School, Port Royal, and a 1967 graduate of the Wesley Theological Seminary, Washington D.C. He was ordained an elder in 1968 with the Central Pennsylvania Conference of the United Methodist Church. In his early life, he served as a lay speaker at the Port Royal United Methodist Church.

He was a retired Methodist minister, having served in the following parishes: Monroeton; Manor Hill of Petersburg RR; Broad Avenue of Altoona; Mapleton, and Robertsdale.

He was a member of the Port Royal United Methodist Church, the Blue Masonic Lodge of Monroeton, and was a 32nd Degree Mason of the Ancient Accepted Scottish Rite, Valley of Altoona.

Services will be held at 11 a.m. Saturday at the Port Royal United Methodist Church, with the Rev. Thomas H. Irwin Jr., District Superintendent of the Altoona district, and Pastor Frank J. Swartz officiating. Interment will be in New Church Hill Cemetery, Port Royal.

Friends may call from 7-9 p.m. today at the Rex Funeral Home, 308 Market St., Port Royal, and from 10 a.m. until the time of the services Saturday at the church.

Memorial contributions may be made to: the Port Royal United Methodist Church, PO Box 396, Port Royal, PA 17082 or to the charity of one's choice.
| | |
| --- | --- |
| | Contributed by rkohler3 on 4/13/17 - Image Year: 1941 |
| | Contributed by rkohler3 on 2/11/13 - Image Year: 1944 |