William Rice HAINES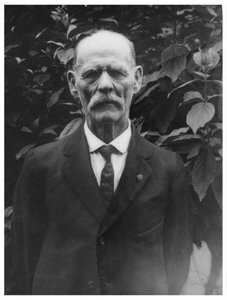 Click On Image To Enlarge
William Rice Haines was a son of John R. and Elizabeth C. (Neiman) Haines. He was born February 10, 1846 in Turbett Twp., and died June 12, 1926. He married Margaret Shobbell and they had the following children: Franklin, Elizabeth, John, William, Charles, David, Anna, Olive, Edith and Leroy.

OBITUARY FOR WILLIAM RICE HAINES

WILLIAM HAINES died at the home of his daughter, Mrs. Wm. Ard at Old Port [Turbett Twp.] Saturday morning, about 6:30 o'clock after several weeks illness, aged 80 years, 3 months and 2 days.

Mr. Haines was a Civil War veteran; he was, also, an upright Christian gentleman, and was a member of the Port Royal Lutheran Church for many years.

He is survived by the following children: Elizabeth (Mrs. William McKinley) of Burnham; John, of Altoona; Olive (Mrs. Ira Kurtz) of Burnham; Annie (Mrs. David McKnight), of Spruce Hill; Roy, of Spruce Hill, and Edith (Mrs. Wm. Ard) of Turbett Township.

Funeral services were held at the home of his daughter, Tuesday morning, conducted by his pastor, Rev. H. W. Webner, after which interment was made in the Church Hill Cemetery.
| | |
| --- | --- |
| | Contributed by rkohler3 on 9/9/15 - Image Year: 1870 |
| | Contributed by ray on 1/11/13 - Image Year: 1910 |
| | Contributed by rkohler3 on 1/11/13 - Image Year: 1910 |
| | Contributed by rkohler3 on 9/10/15 - Image Year: 1895 |