James Nelson ERNEST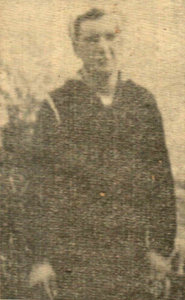 Click On Image To Enlarge
OBITUARY for JAMES N. ERNEST

MIFFLINTOWN - JAMES N. ERNEST, 53 Mifflintown R.D.3, died Saturday at 7:30 p.m. in his home.

Born Oct. 12, 1925, in Milford Township, Juniata County, he was a son of the late James and Pearl Yingling Ernest. He was married to the former Mary Duncan, who survives.

In addition to his widow, he is survived by son James D. Ernest, Mifflintown R.D.3; sisters Mrs. Wilbur (Helen) Shoemaker, Port Royal RD1, Mrs. Charles (Ruth) Foltz, Port Royal; brothers, Norman C. Ernest, Mapleton Depot, Austin N. Ernest Mt. Union R.D., Paul R. Ernest, Lewistown, and Max W. Ernest, Mifflintown; and two grandchildren.

He was employed by Capital Products Corp., Mechanicsburg, and was a Navy Veteran of World War II. He attended Trinity United Methodist Church Mifflin.

A funeral will be held Wednesday at 10 a.m. in the Brown Funeral Home, Mifflintown, with the Rev. Arbe J. Dorsey officiating. Burial will be in Union Memorial Gardens. Friends may call at the funeral home Wednesday from 9:30 a.m. until the time of service.

TWO LOCAL SERVICEMEN MEET IN SIAPAN

Cpl. Robert Gilson, son of Mr. and Mrs. W. H. Gilson of town and Nelson Ernest, son of Mr. and Mrs. J. N. Ernest of Spruce Hill township, who is serving with the Maritime Marines, recently met on Siapan in a very odd manner.

Cpl. Gilson's outfit is stationed on Siapan and he was driving a truck along the highway when he picked up a member of Nelson's crew and in their conversation he told the Marine that he was from Port Royal, Pa. The Marine immediately told him that one of the men on his ship was from the same place. That evening the Marine took Cpl. Gilson onboard their ship and he and Nelson spent four hours very pleasantly together.
| | |
| --- | --- |
| | Contributed by rkohler3 on 11/24/22 - Image Year: 1971 |