Warren L. "Jake" PRYE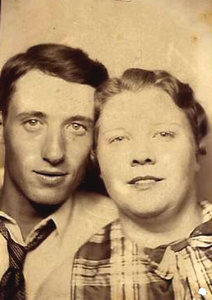 Click On Image To Enlarge
Warren Prye was born October 10, 1913 and died November 2, 1962. He was a son of Luther M. and Lillian M. (Rowe) Prye. He married Mary Katherine Shirk on June 20, 1934. They had one daughter Mary Margaret.

Warren worked for Warren "Pop" Kohler before and through the war years keeping the tractors and other farm machinery working for the farmers in Juniata County. Sometimes having to "jury rig" things because parts were not available. He often worked six days a week from dawn till past sunset.

A strong Lutheran, he taught the Young Men's Sunday School class for as long as his health permitted.

Along with Rev. Norman Marden of the Methodist church, they started the first Sunday evening religious
service at the Port Royal Fair Grounds. This was sometime in the 50's when Blue Laws were still in effect. People were starting to go to the Fair Grounds on Sunday even though the Fair didn't start till Monday, (Labor Day).

Warren would be so proud that the tradition of a Sunday service is still part of the Fair.
| | |
| --- | --- |
| | Contributed by maggieb9 on 9/22/12 - Image Year: 1955 |
| | Contributed by maggieb9 on 9/20/12 - Image Year: 1945 |