Robert "Bobby" HERTZLER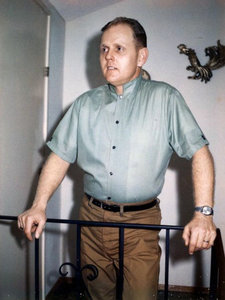 Click On Image To Enlarge
Bobby Hertzler was a son of Noah R. and Elizabeth (Robinson) Hertzler.

OBITUARY for NOAH R. "BOB" HERTZLER

NOAH R. [BOB] HERTZLER, JR. passed away peacefully at home in the company of his beloved wife and children July 8, 2003.

Born in Old Port [Turbett Twp., Juniata Co., PA], he is survived by his wife, Kitty; children, Kimberly Dunn and Robert Hertzler; sister, Charlotte Ungemach; and grandson, Patrick Carrell and his "Baby Gigi."

Chief Master Sergeant Bob Hertzler was honorably discharged from the United States Air Force after 34 years of distinguished service in August of 1984.

Bob also enjoyed activities such as horses, motorcycles, boating, camping, life and family.

Bob had been an active member of SHA, Retreads/Golden Eagles and the Air Force Sergeants Association.

A celebration of Bob's life was held for family and friends at his home on Saturday, July 12.

Memorial donations may be made to Kaiser Hospice, 2025 Morris Avenue, Sacramento, CA 95825.
| | |
| --- | --- |
| | Contributed by ranjude on 1/1/21 - Image Year: 1940 |
| | Contributed by ranjude on 1/1/21 - Image Year: 1940 |
| | Contributed by ranjude on 1/1/21 - Image Year: 1940 |
| | Contributed by rkohler3 on 1/13/13 - Image Year: 1955 |
| | Contributed by rkohler3 on 7/27/12 - Image Year: 1980 |
| | Contributed by robert.hertzler on 4/5/16 - Image Year: 1983 |
| | Contributed by ranjude on 4/5/17 - Image Year: 1952 |
| | Contributed by ranjude on 5/11/17 - Image Year: 1958 |
| | Contributed by ranjude on 5/18/17 - Image Year: 1958 |