Darwin Homer "Peck" GRONINGER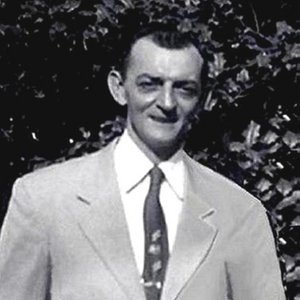 Click On Image To Enlarge
Darwin Homer Groninger was born in Old Port, Turbett Township, on February 22, 1913 and passed away January 19, 1982. He was the son of William Allen and Sarah Bertha (McMeen) Groninger and was the youngest of their four children including Elizabeth Matilda (McCachren), Charlotte B. (Henry), and Benjamin Edward.

He attended Port Royal High School and was active in baseball and basketball. "Peck" coached the Walker Township "Hornets," a girl's league softball team established by the government during WWII.

In March 1936, Darwin married Carolyn Trucks who was from Birmingham, Alabama. They had four children: Kay Elizabeth (Sauvageot), Dorothy Eileen (Primavera), James Darwin and Donald Murray, and 9 grandchildren.

In 1940, Darwin accepted a position as a machinist at the Glenn L. Martin Company, an aircraft manufacturer in Middle River, Maryland. Once he found housing in that area, his family joined him in 1941. In the late 1940's he joined Crown, Cork and Seal Corp. as supervisor of their machine shop.

A few years after he retired he returned to Pennsylvania and resided in Mifflintown. He was a member of the Port Royal Lions Club, Loyal Order of Moose No. 925 of Millerstown, and the Juniata County Sportsmen's Assn. Always an avid hunter, Darwin also enjoyed fishing, swimming and ice skating. Other hobbies included oil painting and reading; especially books about history, the classics, poetry and Zane Gray novels.
| | |
| --- | --- |
| | Contributed by bob_prima333 on 7/4/12 - Image Year: 1970 |
| | Contributed by ray on 2/24/17 - Image Year: 1975 |
| | Contributed by rkohler3 on 12/19/19 - Image Year: 1979 |
| | Contributed by rkohler3 on 7/21/12 - Image Year: 1924 |
| | Contributed by bob_prima333 on 7/4/12 - Image Year: 1968 |
| | Contributed by ranjude on 12/18/19 - Image Year: 2019 |
| | Contributed by ranjude on 12/18/19 - Image Year: 1966 |
| | Contributed by ranjude on 12/18/19 - Image Year: 2019 |