William Elliott "W. E." TOWSEY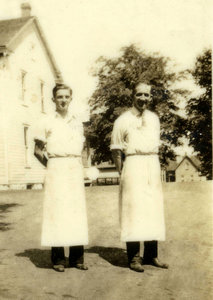 Click On Image To Enlarge
OBITUARY for WILLIAM ELLIOTT TOWSEY

W. E. TOWSEY, 90, formerly of 213 Market Street, Port Royal, died at 9:50 p.m. Tuesday, December 6 [1983] at Perry Village New Bloomfield.

He was born February 25, 1893 in Turbett Township, Juniata County, a son of the late Lawrence M. and Agatha C. Byers Towsey. His wife, Orpha A. Stuber Towsey, died May 24, 1981.

Surviving is one son and four daughters: W. E. Towsey, Jr., Topsfield, Mass.; Mrs. Walter R. (Gladys) Hosterman, Jr., Topsfield, Mass., Mrs. Neil (Helen) Shope, Shermans Dale, RD1; Mrs. James (Jean) Erwin, Pleasanton, Texas; Mrs. Melvin (Betty) Daughenbaugh, Munroe Falls, Ohio; one sister, Mrs. Margaretta M. Wisehaupt, Port Royal, RD1; 14 grandchildren and 22 great grandchildren.

He was preceded in death by a sister, Mrs. Edith A. Kepner, who died Sept. 27, 1983.

Mr. Towsey was first employed by the former S. G. Beaver General Store, Port Royal from 1916 to 1926; he was then manager of the former A&P Grocery Store; Port Royal from 1926 until 1953.

He then was employed as clerk for the former S. R. Bashore and Son Hardware Store of Port Royal until his retirement.

He was a member of the Port Royal Lutheran Church; a 57-year member of Union Lodge #324, F & A.m., Mifflintown; Tall Cedars of Lebanon, Juniata Forest#88, Mifflintown; and he was a member of the Friendship Fire Co.; Port Royal for many years.

He served as secretary of the former Port Royal School Board for many years and he was a former treasurer of the Juniata County Agricultural Society and the Port Royal Water Authority.

Services were held at 10:30 a.m. Saturday at the Rex Funeral Home, Port Royal, with Rev. Dr. Robert W. Suder officiating. Interment was in the Old Church Hill Cemetery, Port Royal.
| | |
| --- | --- |
| | Contributed by rkohler3 on 9/21/12 - Image Year: 1945 |
| | Contributed by rkohler3 on 4/7/12 - Image Year: 1940 |