Harry NAYLOR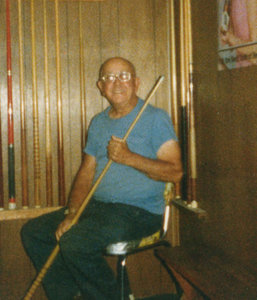 Click On Image To Enlarge
OBITUARY for HARRY S. NAYLOR

HARRY S. NAYLOR, 81, of Port Royal RD2, died at 9:15 am Thursday, February 6, 1992, at the Locust Grove Retirement Village, HCR 67, Mifflin.

Born July 18, 1910, in Spruce Hill Township, Juniata County, he was a son of the late Jerome J. and Susan [Kline] Naylor. His wife, Lenore M. [Groninger] Naylor, died October 14, 1973.

Surviving are children, Mrs. Lee [Mildred] Whitman, Port Royal RD2, Mrs. Donald [Patsy] Bryner, Port Royal RD1; six grandchildren.

He was the last of his immediate family, having been preceded in death by three brothers, Charles Naylor, George Naylor, and Howard Naylor and a sister, Ellie Naylor.

He was a retired farmer and a member of the Lower Tuscarora Presbyterian Church, Academia.

Services were held Sunday at the Rex Funeral Home, Port Royal, with the Rev. Douglas Kelley officiating. Interment was in the New Church Hill Cemetery, Port Royal.
| | |
| --- | --- |
| | Contributed by rkohler3 on 4/7/12 - Image Year: 1990 |