William H. "Bill" GILSON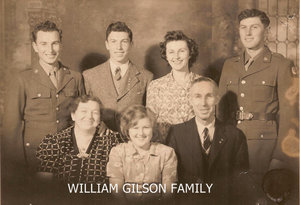 Click On Image To Enlarge
OBITUARY for WILLIAM H. GILSON

PORT ROYAL: WILLIAM H. GILSON, 84, of Main Street, Port Royal, died Wednesday [4 AUG 1976] in Lewistown Hospital. He was born Feb. 16, 1892 in Spruce Hill, a son of the late William and Hanna McCoy Gilson. He married the former Margaret E. Dysinger who preceded him in death.

Surviving are two daughters, Mrs. Hurley (Sara) Burchfield, Mifflintown, and Mrs. George (Helen) Macknair, 200 Shaw Ave., Lewistown; two sons, Dr. John I. Gilson, Mechanicsburg, and Robert Gilson, Coatesville; a brother, Neal S. Gilson, Port Royal R.D. 2, and a sister, Mrs. Margaret Groninger, Port Royal R. D. 2, 15 grandchildren, and three great-grandchildren.

Gilson was the founder and owner of Port Royal Dairy for 33 years. He was a former associate judge in Juniata County. He was a member of Port Royal Presbyterian Church, and served for many years as elder of the church. He was also a member of Turbett Grange No. 781, and a charter member of Port Royal Lions Club.

Services will be held at 10 a.m. Saturday in Port Royal Presbyterian Church. The Rev. Eugene W. Stambaugh will officiate, assisted by Gilson's grandson, Richard H. Burchfield. Burial will be in New Church Hill Cemetery.

The family will receive friends from 7 to 9 p.m. Friday in the Rex Funeral Home. Port Royal.

The body will lie in state in the church from 9:30 a.m. Saturday until the time of the service. In lieu of flowers, memorial gifts may be made to the building fund of the church.
| | |
| --- | --- |
| | Contributed by ray on 3/29/12 - Image Year: 1962 |