Betty Arlene (PRICE) BASOM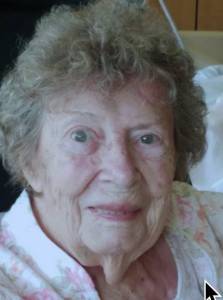 Click On Image To Enlarge
OBITUARY for BETTY A. BASOM

Betty A. Basom, 89, of Thompsontown, passed away Tuesday, Feb. 4, 2020, Bridges at Brookline, in Mifflintown.

Born March 26, 1930, in Lewistown, she was a daughter of the late William Ira and Jessie May (VanScyoc) Price.

In addition to her parents, she was preceded in death by: her siblings, Frederick Gilbert, Benjamin Price, Anna Lois Hubler and William I. Price. Betty was the last of her immediate family.

She is survived by: husband, William F. Basom, of Thompsontown, whom she married Feb. 14, 1958; children, William "Bill" Basom, of Burnham and Amy L. Hench, of Thompsontown; two grandchildren, Lauren E. Hench and Taylor C. Hench; and one great-granddaughter, Kelly R. Graham.

She was a member of the Millerstown United Methodist Church.

Betty was a graduate of Tuscarora Valley High School, Class of 1948.

In her earlier years, she worked at B and B Cutrate Drugstore, Millerstown dress factory, Mifflin Lyon Fashion, and she retired from Mifflintown I.G.A.

She enjoyed line dancing, exercise classes with her friends, traveling, bus trips and playing cards. She loved spending time with her family especially her grandchildren.

Services will be private and at the convenience of the family.

Memorial contributions in Betty?s name may be made to: Central PA Parkinson?s Support Group, 142 Fawn Rd., Reedsville, PA 17084 or American Parkinson?s Disease Association, 332 Gerard Ave., Elkins Park, PA 19027.

Arrangements are under the care of Hoenstine Funeral Home, 75 Logan St., Lewistown.

Online condolences may be offered to the family at www.hellerhoenstinefun eralhome.com.
| | |
| --- | --- |
| | Contributed by rkohler3 on 5/11/17 - Image Year: 1948 |
| | Contributed by rkohler3 on 3/29/12 - Image Year: 1948 |
| | Contributed by rkohler3 on 5/12/17 - Image Year: 1948 |
| | Contributed by ray on 5/12/17 - Image Year: 1998 |
| | Contributed by rkohler3 on 5/12/17 - Image Year: 2008 |