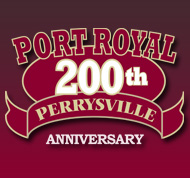 Old Home Foliage Days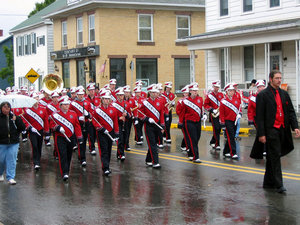 Click On Image To Enlarge
In 1993, Clarence Allen, the local police officer, revived a fall event in the borough calling it, Old Home Foliage Days. It was held October 9 and 10 of that year.

On Saturday, there were games for the kids, horse and buggy rides and a spectator parade. In the evening, contests were held followed by fireworks. There was square dancing to the sounds of Down Yonder with Harry Erhard as the caller.

Port Royal Lutheran Church had its stand open at the fairgrounds and served turkey dinners. The Friendship Fire Company also had its food stand open on the fairgrounds.

Sunday included a pet parade, tractor pulling contests, cross-country skiing, followed by other contests.

Committee members included Earl Davis, Charlie Foltz, Mary Lou Longenecker, Bob Michael, Ben Milliken, Kevin and Belinda Page, Merrill Peterson, Christine Rice, Barbara Steffen Berstresser, Daniel Stong, Gary Swartz and Cathie Wade Stong.

The event is held every fall in October and is very-well attended by not only community residents, but also persons from surrounding communities. In addition to the above-mentioned activities there is a car show, pet parade, homemade scrapple, soup, and chicken barbecue available and plenty of craft vendors to entice shoppers.

The event will celebrate its 20th year in 2012.


FINAL OLD HOME FOLIAGE DAYS MARKS END OF AN ERA IN PORT ROYAL

(by Carol Smith for Juniata Sentinel, October 17, 2012)

The 2012 Old Home Foliage Days event is being billed as "The End of an Era." The 20th annual event, scheduled for Saturday and Sunday, October 20 and 21 in the Juniata County Fairgrounds in Port Royal, will feature bigger and better activities, while maintaining the atmosphere that's made it a success since the very first event in 1993.

Port Royal Mayor Barbara Bergstresser, who has been the main force behind the event since its start, says this year's Old Home Foliage Days will be the last. Staging the annual event of the last two decades has been "20 Years of Love, Sweat and Tears" and that description, too, is being used to promote the upcoming event, which will feature a reunion of the band "Country Legend." While the band no longer exists as it did when featured at the very first Old Home Foliage Days, the "Country Legend Reunion" will enable the group that started it all to also close the curtain on the popular fall festival.

Band member Gary Swartz a former Port Royal resident who now resides out of state, is returning to not only perform with the group, but also to serve as announcer for the Old Home Foliage Days Parade. A procession through the streets of Port Royal has been planned as part of each year's event, and this year will be no exception, with Bergstresser hoping this year's parade, too, will be bigger and better than ever.

"We're hoping that some of the groups that made floats for the Port Royal Bicentennial Parade will consider putting those floats in the Old Home Foliage Days Parade," she said, noting that entries will be accepted through October 18.

Swartz is being called upon to announce this year's parade because Bergstresser won't be available to do so, as she's done for all the previous event parades. This year, she's been tapped as the grand marshal and will be riding in style near the front of the procession in a 1934 Brewster Town Cabriolet Deville, owned by the cousin of a couple who were longtime dedicated OHFD volunteers--Bill and Pegs Allen, both of whom are now deceased.

The Allens provided tractor-drawn hay wagon rides for the event for ten years, and helped to prepare corn as an ingredient of the soup that's served at the event each year. Their family member, from York, is providing the car--one of less than 100 now in existence in the entire country--in their memory, and Bergstresser is excited about the opportunity to ride in it.

"It's definitely a museum piece," she said.

Some other museum quality automobiles will also be featured at Old Home Foliage Days at the annual car show to be held Sunday from noon to 4:00 p.m., with registration beginning at 9:00 a.m. Although not a part of the original event, the car show has been held for the majority of its years. The first OHFD Car show featured seven trophy sizes. This year's show will have 18 divisions, each with a minimum of three trophies, and, over the years, the show has increased in participants as well as in divisions.

"Our all-time largest car show had 168 entries," Bergstresser said.

Classic automobiles aren't the only things at Old Home Foliage Days that can carry the "antique" label. Vendors of various items, including
antiques and crafts, have always been a part of fall festivities in Port Royal, and this final year will be no exception. Bergstresser says the set-up fees paid by vendors help the OHFD Committee to pay for the grounds rental each year, as well as the required insurance for the event.

These costs are also covered in part by the sale of advertising in the program booklet that is produced each year to both promote and commemorate the event. Distributed throughout the area prior to Old Home Foliage Days, the booklets contain not only the weekend's schedule of events, but also photos of the Port Royal area from years gone by. Each of the 20 programs that have been printed have contained different photos. Some have been contributed by committee members, their family and friends; others have been gleaned from old newspapers; and others have been offered for use by area residents familiar with the program style.

"'We include them [the photos] so the books become collector's items," Bergstresser said.

Also always featured in the program booklet is the year's musical entertainment.

"There's always entertainment on the free stage," the event coordinator said, noting that this year will feature two stage acts-Country Legend Reunion and Make Mine Country.

"There have been a lot of good performers over the years," she commented, noting that one of the biggest stars to perform at the event was probably Tommy Cash, who was featured a few years ago.

When the event started in 1993, it took its name, in part, from another long defunct Port Royal celebration-Old Home Days. It was planned as a benefit for Port Royal's Moyer Park, which was then in the development stages. That was the only year that all its proceeds went to a single cause. Bergstresser says, beginning with the second year of OHFD committee members involved in planning the event also became involved with deciding where its profits would be donated. Seven members each choose a local charity, and when the profits are calculated, they are divided seven ways, with each charity getting an equal share.

This year's committee members are the same individuals who have planned the event for the past ten years: Bergstresser and Swartz, plus Earl Davis, Kay Benner, Jason Davis. Missy Bretz and Russell Bryner. Charities that have benefited from OHFD proceeds in recent years have included (but are not limited to): the Juniata County Pet Pantry, Port Royal Bicentennial Committee, Gift of Love, Port Royal Christmas Light Fund, Quilts of Valor, Juniata County Service Unit of the Salvation Army and the Juniata County Food Pantry.

From 1993 through 1997, the event was held where it originated, in the Juniata County Fairgrounds. In 1998 and 1999 the event moved to the Port Royal Lions Park, but returned to the fairgrounds in 2000 and has been held there ever since. For the first two years of OHFD, the fairgrounds was the site of an old-fashioned butchering, with the resulting sausage and scrapple being sold. The items have continued to be made available each year, but, beginning in 1995, Department of Agriculture regulations prohibited on-site butchering, creating the necessity to purchase meats to be used in making the popular "down home" foods.

In addition to the "butchering" foods, concession goodies have also always been a part of the event. Throughout the years, various non-profit groups, such as local sports booster clubs, 4-H and Boy Scouts, have joined private food stand operators in tempting the taste buds of Old Home Foliage Days visitors with varied menu items.

Just as the aromas of many treats have always been part of OHFD weekends, so has the sound of the spinning paddle wheel and subsequent lucky number calls. Donations from the community join "special" items, such as Old Home Foliage Days insignia bears among
the paddle wheel prize choices.

Items with the OHFD moniker are also sometimes featured in another popular activity held annually since 2002 a theme basket raffle. Chances on baskets filled with items to fit themes ranging from holiday to children to movies to tools [and many. many others!] are sold, and the winning tickets are drawn near the conclusion of each year's festivities on Sunday afternoon. Bergstresser assumes the responsibility of compiling virtually all the baskets, but some items donated from community members.

Unfortunately, not all the children who stare wide-eyed at yhe baskets with themes designed for the younger crowd [which this year will include a Barbie basket, a boys' basket and a Star Wars basket] can win one of them, but all the young people who come to Old Home Foliage Days can participate in the kids' games and crafts, which are traditionally handled by Shirley Hargett, whose holiday "Gift of Love" program [which provides Christmas toys to local children who might otherwise receive no presents] is often one of the beneficiaries chosen to share in the OHFD profits.

Children are also invited to participate in a coloring contest that has been sponsored each year since 1994 by First National Bank of Mifflintown--also the sponsor of another activity that became an OHFD attraction last year; the Almost Anything Goes competition between Juniata and East Juniata high schools. Rained out at the 2011 Juniata County Fair, the friendly battle of the students was rescheduled to take place at Old Home Foliage Days. This year, Mother Nature again failed to cooperate with competition coordinators during the fair, and the OHFD Committee is again lending a helping hand and offering their rain or shine event as a backdrop or the wild and wacky rivalry [which, in some ways, is not unlike past "unorthodox" business challenges in areas such as cross country skiing and wheelbarrow racing that are part of OHFD history!].

Bergstresser says her personal favorite of all the OHFD features is another activity traditionally popular with the youth—the pet parade. Past years have seen owners turn out with a variety of pets, including not only the expected dogs and cats but also turtles, ponies and chickens and a few other critters that compete for titles such as prettiest and most unusual.

Events to be included in this year's finanal Old Home Foliage Days include the parade at 2:00 p.m. Saturday, to be followed by the music show at 4:00 p.m. In between, milk and cookies will be offered at 3:00 p.m. by the Juniata County Dairy Court. Sunday's main features, in addition to the car show, will include the pet parade at 1:00 p.m., Almost Anything Goes at 2:00 p.m. and the theme basket drawing at 3:00 p.m.

The weekend's ongoing activities will include: kids' games and crafts, horse-drawn wagon rides provided by Jim and Jean Swartz, paddle wheel, craft and antique vendor booths and Hip Hop the Clown's face
painting and balloon art.

With the exception of food sales, all Old Home Foliage Days activities (including a table of various "left-over" items from past years' events) will be free of charge, as has been the case since the very beginning.

To have been able to offer everything free for so long. And to have also been able to support many local causes, brings Bergstresser great satisfaction, and she's grateful to those who have made it all possible. Without the support of the community, and, especially of local businesses, the committee would not have been able to accomplish everything that it has during its 20 years of "love sweat and tears." She says.
| | |
| --- | --- |
| | Contributed by ray on 11/25/11 - Image Year: 2004 |
| | Contributed by rkohler3 on 11/25/11 - Image Year: 2004 |
| | Contributed by rkohler3 on 11/25/11 - Image Year: 2004 |
| | Contributed by ray on 11/25/11 - Image Year: 2007 |
| | Contributed by rkohler3 on 10/21/12 - Image Year: 2011 |
| | Contributed by rkohler3 on 10/21/12 - Image Year: 2011 |
| | Contributed by rkohler3 on 7/16/13 - Image Year: 2013 |