Vada Lee (GOODMAN) BAILOR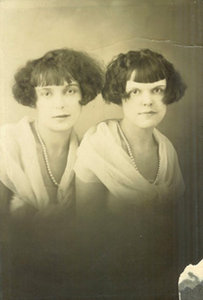 Click On Image To Enlarge
Vada and her twin Vera were born 17 March 1901 at the Goodman family home in Groninger Valley. Vada and Vera were daughters of William Wilson Goodman and Carrie Eleanor Reeder.

She attended Mount Olive School in Port Royal.

In 1927, she married Ellis Bailor. She worked at the shirt factory from 1927 to 1929 after which she ran the household and chased after her young son Donald.

Vada was an excellent cook and homemaker. In her later years, after her husband Ellis passed, she lived for a time with her twin Vera in Selinsgrove. When Vera's husband Maurice passed away, the sisters lived for a time in Selinsgrove and then returned to Port Royal where they became active in the Senior Citizens Center. Both ladies loved to laugh and dance. Vada passed away 3 Mar 1986 at her home in Port Royal.

OBITUARY for VADA L. GOODMAN BAILOR

VADA L. BAILOR, 84, of 202 Main St., Port Royal, died at 7:30 am Monday, March 3 [1986] at her home.

Born March 17, 901 in Port Royal, she was a daughter of the late William W. and Carrie E. Reeder Goodman. Her husband, Ellis B. Bailor, died September 2, 1962.

Surviving are a son, Rev. Donald E. Bailor, Sr., Lewisberry; a sister, Vera V. Hummel, Port Royal; four grandchildren and six great grandchildren.

A brother, Paul W. Goodman, died Saturday.

She was a member of Port Royal Lutheran Church and a former member of Port Royal Senior Citizen Center.

Services were held at 10 am Thursday at the Rex Funeral Home, Port Royal, with Rev. John K. Whitcomb officiating. Interment was in Old Church Hill Cemetery, Port Royal.

Memorial contributions may be made to Port Royal Lutheran Church, Port Royal, 1082.
| | |
| --- | --- |
| | Contributed by rkohler3 on 8/20/11 - Image Year: 1932 |