Miriam Edna (TAYLOR) WERT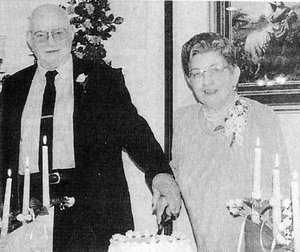 Click On Image To Enlarge
OBITUARY for MIRIAM (TAYLOR) WERT

Miriam E. Wert, formerly of Port Royal, PA, passed away at Hershey Medical Center from a brain stem stroke and went to be with Jesus on December 18, 2019.

Born on January 17, 1925 at Matamoras in Spruce Hill Twp., she was the daughter of the late Norman L. and Edna Brackbill Taylor. She had five siblings, with her late brothers being Wilbur, Toby, Harold and Bernal, and one sister, Eleanor Boyer.

Miriam's husband, C. Marlin Wert, preceded her in death on July 29, 2014, after seventy years of marriage.

In 2015, her youngest daughter, Peggy, passed away, and in 2016 her son-in-law, Harold D. Vogt, also went to be with the Lord.

Miriam's and Marlin's family unit consisted of daughter Susan W. Vogt, now of Hershey, PA; her late daughter Peggy W. Love and husband, Norman, of East Waterford. There are six surviving grandchildren (Cliff, Dan, Joseph and Jennie Love), plus Sue's children (Tim Campbell and Teresa Umberger) and eight great-grandchildren: (Cliff & Lori's) Seth and Eliza, (Dan's) Mallie, (Joe & Rachel's) Nathan and Natalie, plus (Tim's) Scott Campbell, and (Teresa and Jason's) Alyssa and Leah Umberger.

Miriam graduated from Port Royal High School in 1941 and then from Central Penn Business College. She went on to be a secretary for the Equitable Life Assurance Society in Harrisburg until her marriage in 1944. Before she retired, she owned and operated the Wert Insurance Agency along with her husband Marlin. Miriam was the first woman to serve on a township School Board in the 1950s, and eventually became the first woman School Board President in the 1960s.

After retirement, Miriam authored and published three books, one of which is a compilation of sermons by Armenia evangelist Meshach Paul Krikorian who once had evangelistic services at Matamoras Methodist Church in the 1930s where nine-year-old Miriam went forward at the altar call and gave her heart to the Lord. She and her future husband Marlin served as Bible teachers all their lives.

After Miriam retired later in life, she served as a mentor or "coach" for the Billy Graham Evangelistic Assn. (BGEA) where inquiry emails from around the world for further study on God's Word are forwarded to the Graham organization in North Carolina. In turn, BGEA forwards those inquiries via email to assigned "coaches" to follow up and mentor the inquirers through an online Bible course called, "Search for Jesus." Both the inquirers? and coaches? names are kept anonymous for confidentiality purposes. The only thing the "coach" knows is the name of the country of the inquirer. Many inquiries came from Africa where the people are hungry for the Gospel.

Miriam took pride and joy in her daughters and grandchildren and great-grandchildren. She looked forward to going to be with Jesus, and her desire was to make sure that others go there also.

There will be a "Graduation-to-Glory" service for Miriam on January 25, 2020 at 2 p.m. at Cedar Grove Brethren in Christ Church, Mifflintown/Mexico, PA where she was a member. Friends will be received by the family for one hour before the service. The family requests no flowers. A "Remembrance Service" was held also for her on December 29, 2019 at Caring Community Church, Hummelstown, where she had accompanied her daughter Sue when Miriam went to live with her in 2016 before having to be admitted to Frey Village Nursing Home on December 18, 2018. Many Hospice personnel and also staff from Frey Village wished to attend that service.

Memorial contributions may be made to Billy Graham Evangelistic Association (BGEA), 1 Billy Graham Parkway, Charlotte NC 28201-0001. It was her wish that others from area churches would volunteer as BGEA email "coaches" in the years to follow.
| | |
| --- | --- |
| | Contributed by rkohler3 on 8/5/11 - Image Year: 1944 |
| | Contributed by rkohler3 on 4/30/12 - Image Year: 1955 |
| | Contributed by rkohler3 on 2/22/14 - Image Year: 2014 |
| | Contributed by rkohler3 on 11/30/22 - Image Year: 1941 |
| | Contributed by rkohler3 on 11/30/22 - Image Year: 1941 |