Dairy - Port Royal
Main St.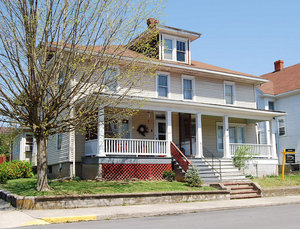 Click On Image To Enlarge
The first dairy in Port Royal was located on the back of the property at the corner of Market and Sixth Street. This dairy was owned by Peter Beers and next by William Saylor. Eventually it was acquired by R. E. Groninger who sold it to Ralph and Maggie Gilson. (See note)

Note from Port Royal Times of October 2, 1912: Mr. R. E. Groninger, our accommodating milkman, who has served the people of Port Royal the past 27 years, has sold his business to Mr. Ralph Gilson of Turbett Township. Mr. Gilson made his first trip yesterday morning, October 1st, and will continue the good service that his predecessor has established.

Then William and Margaret "Maggie" (Dysinger) Gilson built a dairy behind their home on Main Street. The dairy remained there for thirty-three years.

John "Duff" Taylor purchased both the dairy and house in 1954 and continued operation while residing there. John eventually sold the business to Lane and Joanne (Ulsh) Swartz.

The dairy was moved again in 1958, this time to the northeast corner of Milford and Sixth Streets. Owners at this location were: Walter McCahan and Robert Kauffman. (Eventually this building was converted into MacBarney's Restaurant.)

This double house was built between 1911 and 1928 because it did not exist on the Sanborn Fire Insurance Map of 1911 but was on their 1928 map.
Contributed by rkohler3 on 3/13/13 - Image Year: 1949

Contributed by rkohler3 on 5/30/20 - Image Year: 1955

Contributed by rkohler3 on 7/20/20 - Image Year: 1955

Contributed by jwert on 7/1/12 - Image Year: 1955

Contributed by rkohler3 on 12/28/10 - Image Year: 1965

Contributed by rkohler3 on 7/1/12 - Image Year: 1970

Contributed by ray on 7/1/12 - Image Year: 1950

Contributed by rkohler3 on 1/13/20 - Image Year: 1960

Contributed by ray on 7/1/12 - Image Year: 1960

Contributed by rkohler3 on 7/1/12 - Image Year: 1965

Contributed by ray on 7/8/12 - Image Year: 1965

Contributed by rkohler3 on 11/19/09 - Image Year: 1889

Contributed by rkohler3 on 11/19/09 - Image Year: 1904

Contributed by rkohler3 on 11/19/09 - Image Year: 1911

Contributed by rkohler3 on 11/19/09 - Image Year: 1928