Guy Harry TOWSEY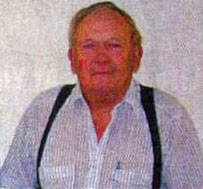 Click On Image To Enlarge
OBITUARY for GUY H. TOWSEY

Guy H. Towsey, 85, of Mifflin, passed away 4:30 p.m., Saturday, Sept. 1, 2018, at Geisinger-Holy Spirit Hospital, in Camp Hill.

Born Feb. 23, 1933, in Turbett Township, Juniata County, he was the son of the late Paul S. and Susan E. (Ritzman) Towsey.

He was preceded in death by his wife, Ruth H. (Parson) Towsey, on May 23, 1999.

Surviving are: three daughters, Arlene R. Schlegel, of Honey Grove, Joan G. Hostetter and husband, Ronnie, of Enola, and Teresa Walz, of Millerstown; one son, Guy R. "Rusty" Towsey and companion, Angie Rudy; six grandchildren; eight great-grandchildren; and four great-great-grandchildren.

Also surviving are: his companion, Linda Bowers, of Port Royal; as well as three brothers, William "Bill" Towsey, Marvin Towsey and Jim Towsey, all of Port Royal.

Guy was preceded in death by three sisters, two brothers and two grandsons.

For 40 years, Guy worked as a sewing machine mechanic at the former Juniata Garment in Mifflin, from which he retired in 1995.

A Korean war veteran, Guy served in the U.S. Army.

A former member of the Mifflin Borough Council, he also served on the Twin Boroughs Sewer Authority.

He also was a member of Turbett Grange No. 798 and a life member of Mifflintown VFW Post No. 5968.

He served as an umpire for the Juniata Softball Association, Mifflin.

An avid hunter, Guy enjoyed spending quality time with his grandchildren and mowing grass on his riding mower.

His funeral will be held 11 a.m., Wednesday, Sept. 5, 2018, at Rex Funeral Home, 308 Market St., Port Royal, with Rev. Les Towsey officiating.

Interment will follow at the Old Church Hill Cemetery, where full military honors will be accorded by the Juniata County Veteran?s Council.

A viewing will be held from 6 to 8 p.m., Tuesday evening, at the funeral home.
| | |
| --- | --- |
| | Contributed by rkohler3 on 2/7/13 - Image Year: 1950 |
| | Contributed by rkohler3 on 8/1/11 - Image Year: 2008 |
| | Contributed by rkohler3 on 7/15/16 - Image Year: 2016 |