Don Russell "Tater" GRONINGER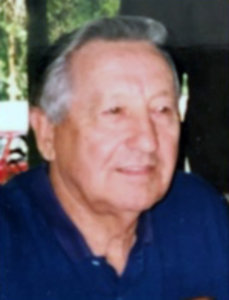 Click On Image To Enlarge
OBITUARY for DON R. "TATER" GRONINGER

Don R. "Tater" Groninger, 93, of Port Royal passed away at 8:10 a.m. on Friday, November 16, 2018, at his home.

Born on July 30, 1925 in Walker Township, Juniata County, he was the son of the late Oscar and Clara "Babe" (Kauffman) Groninger. On June 19, 1948 he married his late wife Jean (Stutts) Groninger with whom he was blessed to share almost 57 years of marriage before she preceded him in death on May 7, 2005.

Surviving are his: two sons and daughter-in-law, Dr. Don S. Groninger, Daniel S. Groninger and his wife Llaine all of Port Royal and a sister, Dorothy Jane Smith of North Ridge Manor, McAlisterville.

Four sisters, Annabelle Postal, Sarah Dickson, Elizabeth Graham and Edie Switzer preceded him in death.

Mr. Groninger was a lifelong farmer having farmed his beloved Groninger Homestead Farm, where he was still active in the day to day operations of the farm until the day of his death.

His memberships included the Port Royal Evangelical Lutheran Church, the Turbett Grange No. 781, and he was most proud of his 30 plus year membership of the Juniata County Agriculture Society.

"Tater" was a proud registered Republican, who in earlier life was renowned for playing baseball with the Mexico and Port Royal teams. One of his fondest baseball memories was having a tryout with the Brooklyn Dodgers in West Virginia, where he took a bus to the tryout but had to hitch hike home. With his love of sports he was a big Mets fan and an ardent Penn State fan.

A memorial service will be held at 10:00 a.m., on Tuesday, November 20, 2018, from the Brown Funeral Homes, Inc., 100 Bridge Street, Mifflintown, with his nephew Pastor Terry Smith officiating. Interment will private and held in the Adams Cemetery, Mifflintown.

There will be no viewing or visitation.

Memorial contributions in Mr. Groninger's memory may be made to the Port Royal Lutheran Church, 403 Market St., Port Royal, PA 17082.
| | |
| --- | --- |
| | Contributed by ray on 11/18/18 - Image Year: 2010 |
| | Contributed by rkohler3 on 7/30/11 - Image Year: 1992 |
| | Contributed by rkohler3 on 11/18/18 - Image Year: 1932 |
| | Contributed by ray on 11/18/18 - Image Year: 1948 |