Eleanor Frances (BEAVER) HERTZLER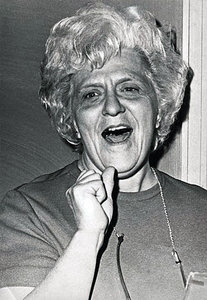 Click On Image To Enlarge
OBITUARY for ELEANOR FRANCES BEAVER HERTZLER

PORT ROYAL - Eleanor Beaver Hertzler, 87, of Port Royal RR1, died at 4:40 p.m. Sunday, Nov. 26, 2000, at the home of her daughter in Arnold, Md.

Born Oct. 23, 1913, in Port Royal, she was a daughter of the late Samuel S. Beaver and Margaret (Frankhouse) Beaver Lyter, who died Aug. 18, 1999. Her husband, John G. Hertzler, whom she married in 1942, died in 1976.

She is survived by children, Pat Hertzler, Port Royal RR1, Sue Freeman, Arnold, Md. and John G. Hertzler Jr., Los Angeles, Calif.; a brother, Richard Beaver, Thompsontown; six grandchildren and five great-grandchildren.

She was preceded in death by a brother, Charles Beaver, who was killed in an airplane accident in 1945 while in the Army; stepfather, George C. Lyter; and stepbrother, William Lyter.

She was a 1931 graduate of Port Royal High School and a 1935 graduate of Wilson College, Chambersburg.

She began her career in education by teaching French, Latin, physical education, and vocational education at Juniata Joint High School, Mifflintown from 1935-1943. While accompanying her husband in the Air Force, she continued her career by teaching Air Force Institute classes in Okinawa; edited technical manuals for Offutt Air Force Base, Omaha, Neb.; supervised teachers and taught French in theUniversity of Maryland classes for the Air Force personnel in Casablanca, Morocco; and retired in 1974 after teaching Latin and French for 16 years in Prince George's County, Maryland.

She enjoyed reunions with former Juniata Joint students.

She was a member of the Port Royal Lutheran Church.

Services will be held at 11 a.m. Saturday at the Rex Funeral Home, Port Royal, with the Rev. Marton J. Roberson officiating. Interment will be in Old Church Hill Cemetery, Port Royal.

Visitation with closed casket will be held from 10 a.m. until the time of services Saturday at the funeral home.

Memorial contributions may be made to the Port Royal Lutheran Church, PO Box 267, Port Royal, PA 17082-0267 or to Hospice of the Chesapeake, 8424 Veterans Highway, Millersville, MD 21108.
| | |
| --- | --- |
| | Contributed by rkohler3 on 7/22/11 - Image Year: 1924 |
| | Contributed by rkohler3 on 12/31/20 - Image Year: 1942 |
| | Contributed by rkohler3 on 7/22/11 - Image Year: 1950 |
| | Contributed by rkohler3 on 7/23/11 - Image Year: 1957 |
| | Contributed by rkohler3 on 7/23/11 - Image Year: 1990 |
| | Contributed by rkohler3 on 7/23/11 - Image Year: 1990 |