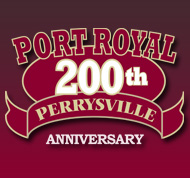 Clinton "Clint" BASHORE, JR.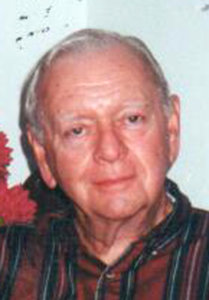 Click On Image To Enlarge
OBITUARY for CLINTON F. BASHORE JR.

Clinton F. Bashore Jr., 88, of Port Royal, passed away at 7:40 p.m., Monday, June 4, 2018, at his home.

Born on Sept. 15, 1929, in Lewistown, he was the son of the late Clinton F. Sr. and Melissa H. (Horning) Bashore. Surviving is his wife of over 67 years, Mildred J. (Fleck) Bashore, whom he married on Sept. 15,1951.

Also surviving are: four daughters, Elaine K. Camp and husband, Joseph, of Hatboro, Susanne Blank, of Albuquerque, N.M., Lisa M. Bashore and Jill N. Bashore and husband, Ghassan, both of Fort Worth, Texas; 10 grandchildren and 6 great-grandchildren.

The last of his family, Clint was preceded in death by a brother, Samuel Bashore, and two sisters, Normalee Bashore and Audrey J. Hogue.

He was a 1947 graduate of the Tuscarora Valley High School in Port Royal.

Mr. Bashore was the owner and operator of the former S.R. Bashore and Son Hardware in Port Royal.

Clint was a member of the Port Royal Lutheran Church and served as a board member of the Juniata Valley Bank of Port Royal.

Active in community service, he also served on boards for the Juniata County School District, the Mifflin-Juniata Vo-Tech School and the Lost Creek Golf Course.

He was a member of the Lewistown Moose Lodge 143.

A Korean War Veteran, Clint proudly served in the U.S. Army.

An avid golfer, he also played baseball until the age of 40. Of special note was his participation in the Juniata-Perry Baseball League and the Twilight League for Mexico.

His funeral will be held at 11 a.m. on Saturday, June 9, 2018, at the Rex Funeral Home in Port Royal, with Rev. Charles L. Hershberger officiating. Interment will follow at Old Church Hill Cemetery, where the Juniata County Veteran's Council will conduct full military honors.

There will be no viewing, or visitation.

The family will provide all flowers. Memorial donations in Clinton's name may be made to the following organizations: Port Royal Lutheran Church, P.O. Box 267, Port Royal, PA 17082; American Cancer Society, 1375 Martin St., Ste. 206, State College, PA 16803; and American Heart Association, 1019 Mumma Road, Wormleysburg PA 17043.

CLINTON F. BASHORE, JR.
HARDWARE MERCHANT
Focus on Excellence
By Steve Bahorik
Lewistown Sentinel (1997)

It is the human condition to take the familiar for granted, but to lament its loss when it disappears. Such is the case with the hardware store in Port Royal, an establishment that closed its doors for the final time last year. Perhaps no one alive today can remember a prior time when the local hardware store was not there to serve the needs of the community. It was founded by Samuel Ray Bashore, and it remained a family business for three generations. We sat in the living room of Sam?s grandson, Mr. Clinton Bashore Jr., the last family member to own and operate the store, and we discussed the history of S. R. Bashore & Son Hardware and its lasting impact upon the community.

"My grandfather"; Clint recalls with a smile, "started the hardware business here in Port Royal back in 1897 - a hundred years ago this year. Along the way his son, my Uncle Floyd, joined the business, and that's where the "Son" comes from in the store's name. I remember my grandfather well since he allowed me to hang out at the store and do odd jobs for him when I was a kid. He was very strict but also very fair-minded.

"As time went on Uncle Floyd eventually left the business, and my father, Clinton Bashore, Sr., took his place. My grandfather's career spanned a total of forty-eight years. When he died in 1945, my father bought the store. Dad ran it for the next eighteen years until I bought it from him in 1963. Then my wife and I operated the business until my retirement in 1977."

Clint worked in S. R. Bashore & Son Hardware all during his youth first for his grandfather and then in turn for his father. Upon graduating from Tuscarora Valley High School in 1947, he began full time employment in the family business, but his tenure was hardly begun when it was interrupted by a hitch in the army. Shortly after returning to civilian life, Clint once again assumed his role in the store, but his career was stalled a second time by the outbreak of the Korean War. He was shipped to Germany where he served until his discharge in 1953.

We asked Mr. Bashore to recount the history of the store building itself as he heard it from his dad and granddad and as he lived it. The story that unfolded was quite interesting, and we share it now: "My grandfather started his business in an old frame building that was situated on the present lot. As he expanded his inventory, the store became more and more crowded, but he lived with the growing confinement until 1927 or 1928. Then late one night fire broke out, and the building with virtually all its inventory was destroyed. To my best recollection they never did determine he cause of the blaze.

"It was at thus time that Granddad built the present brick structure. He used a lot of foresight in making it so spacious, that's what eventually allowed us to expand more and more into appliances and into electrical, heating, and plumbing contracting.


'During those early years, there was a hitching post out front where the customers tied their horses. Along side of it was a watering trough. Then when automobiles came onto the scene in the 1930s, Granddad installed gasoline pumps at the edge of the road. At one time he offered customers their choice of four different brands of gasoline - four pumps and four tanks! Eventually, Dad and I sold only Sunoco.

"The hitching post and watering trough lasted until the 1940s. The gasoline pumps were removed when route 75 was upgraded in the 1960s. Until that time the gasoline storage tanks were located under the highway right-a-way! The new road changed the looks of Port Royal in other ways too. Market Street was lined with beautiful shade trees, but the State mandated plans dictated their removal. The pumps were removed in order to straighten the road and remove the main flow of traffic from Town Lane. I guess every generation sees its own changes."

S. R. Bashore & Son sold American Hardware products, and thousands of items filled its shelves. "Much of what we did within the store itself was dedicated more to good will and customer service rather than to profitable venture. For example, it was very time consuming to have a clerk locate six or seven bolts of a certain size, find the associated nuts and washers, and then finally write up a sales slip. But we did this many times a day with the hope that the customer would be satisfied and would return another day to make a bigger purchase.

"Our most important decisions were made at the time inventory items were bought. In order to get the lowest prices, we had to buy in volume, even at the risk of overstocking. I used to buy appliances by the boxcar load, and we purchased fertilizer and cement by the truckload. Then in order to sell all these things we competed in service.

"A major aspect of my business was appliances. We sold a full line of General Electric products: dishwashers, garbage disposals, trash mashers, washers, dryers, refrigerators, freezers, and dehumidifiers. We followed up our sales effects with complete service on every item we carried. John Longenecker was a service technician with us for over thirty years. Wendell Longenecker and Jerry Zook worked for us a long time too.

"An extremely important phase of our business was electrical, heating and plumbing contracting. We subcontracted through building contractors. We were a major subcontractor for the construction of the early Groninger housing complexes, and we continued to do routine maintenance in these buildings after their completion. The housing complexes in East Waterford, Mifflintown, Port Royal and Newport were all a part of this account."

Perhaps few realized it at the time, but S. R. Bashore & Son Hardware operated one of the largest sheer metal shops in Central Pennsylvania. Fully equipped, the shop manufactured all the ductwork for the many heating-contracting jobs the establishment secured. Stovepipe was also another big item. Thousands of joints of stovepipe were manufactured annually as customers returned to wood burning. Much of this work consisted of producing pipe in odd sizes customized to the buyer?s specifications.

"In the early 1940s during World War II, anything made of metal was hard to get. Since we couldn?t buy buckets, washtubs, boilers, corn dryers and the like, we started manufacturing them in our shop. We?d work late into the evening trying to keep up with demand. Each week we?d even hip several dozen items to Harrisburg for stores down there to sell."

Mr. Bashore retired from the hardware business in 1977 when he sold the store to Jeff Leonard. Jeff operated the business as Leonard?s Hardware for about a decade until it was purchased by Larry Long. The store continued as Long's Hardware until Keith Kint bought it a short time later. Kint's Hardware finally closed its doors for good last year [1996] Today the building sits empty, the property of the Juniata Valley Bank, and its ultimate fate is unknown. [The building was torn down in 2004 with the intention that it will be used as parking space by the bank.]

The Bashore men were each involved in community affairs during their respective careers. Clint, his father and grandfather all served as school directors! Clint, himself, served two years on the local Board and six yeas on the County Board. While sitting on the County Board he also was a member of the Board of Directors of the Mifflin-Juniata Vocational Technical School.

Mr. Bashore is a past member of the Board of Directors of the Lost Creek Golf Club, the Juniata County Fair Association, and the American Legion; further he served several years as the President of the Port Royal Investment Club. Presently he sits on the Advisory Board of the Port Royal Branch of the Juniata Valley Bank, a directorship he has held for thirty-four years. "I could never be that active again." Clint laughs. "One year we kept track of al the meetings I attended; they totaled 114.

Perhaps it was his service on a special committee that has been the most meaningful to Clint. He was appointed by Governor Milton Shapp to be a member of a four-person committee to interview candidates and determine a nomination to fill the office of Judge when this position suddenly became vacant due to the death of the incumbent. The committee nomination of Keith Quigley was accepted by the governor, and Quigley was appointed judge.

"I was brought up in the hardware business, and I never strayed far from it. I never really left home, got to meet an awful lot of people and it was fulfilling to serve so many friends."
| | |
| --- | --- |
| | Contributed by rkohler3 on 7/10/11 - Image Year: 1997 |
| | Contributed by rkohler3 on 12/29/12 - Image Year: 1948 |
| | Contributed by rkohler3 on 12/29/12 - Image Year: 1950 |