Annie Charlotte (HOCKENBERRY) WORLEY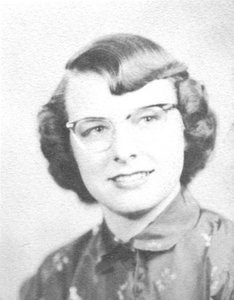 Click On Image To Enlarge
OBITUARY for ANNIE C. WORLEY

FAYETTEVILLE, Pa. - Annie Charlotte Hockenberry Worley, 66, of 112 Lincoln Drive, died Wednesday, Nov. 29, 2000, at her home.

Born July 25, 1934, in Port Royal, Pa., she was the daughter of the late Samuel H. and Mabel M. Lehman Hockenberry.

She was a graduate of Juniata [Tuscarora Valley] High School; and Harrisburg (Pa.) Hospital School of Nursing.

She was a registered nurse at Scotland (Pa.) School for Veterans Children, retiring in January 2000. She formerly worked as a registered nurse at Chambersburg Hospital.

She was a member of Mount Pleasant United Brethren Church in Chambersburg and King's Sons and Daughter's Sunday School Class.

She was a member of Harrisburg Hospital Nurse's Alumni Association.

She is survived by her husband, Robert Worley; a daughter, Cindy Bender of Fayetteville; two sons, Steve Campbell of East Waterford, Pa. and Rod Campbell of Fayetteville; six sisters, Bessie McNaughton of Thompsontown, Pa., Catharine Hoffman of Newport, Pa., Rose Zeigler and Sis Lawson, both of Mifflintown, Pa., Grace Campbell of East Waterford and Violet Reed of Spring Run, Pa.; a brother, Wilmont Hockenberry of Mifflintown; three grandchildren; and a great-grandson.

She was preceded in death by two brothers; a grandson, and a niece.

Services will be Saturday at 10 a.m. at Mount Pleasant United Brethren Church, Chambersburg. The Rev. Daryl M. Elliott will officiate. Burial will be in Parklawns Memorial Gardens in Chambersburg.

The family will receive friends Saturday at 9 a.m. at the church.

Memorial donations may be made to Mount Pleasant United Brethren Church, 2509 Black Gap Road, Chambersburg, PA 17201.

Arrangements are by Thomas L. Geisel Funeral Home, Chambersburg.
| | |
| --- | --- |
| | Contributed by rkohler3 on 2/23/15 - Image Year: 1949 |