Mary J. (WALTERS) BARGO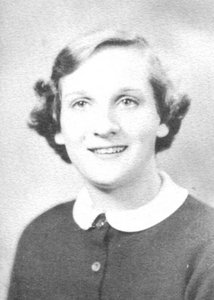 Click On Image To Enlarge
OBITUARY for MARY J. BARGO

Mary J. Bargo, 80, of Honey Creek Road, Reedsville, died at 3 p.m. on Thursday, Feb. 19, 2015 in her home.

Born on April 27, 1934, in Port Royal, she was the daughter of the late Thurman R. and Geraldine (Jacobs) Walters.

She was married on April 7, 1955 to Cloyd L. "Duke" Bargo, who survives.

Also surviving her are: children, Mark S. Bargo and wife, Sarah, of Reedsville, Bryne W. Bargo, of Reedsville and Joel R. "Poss" Bargo and wife, Laurie, of Lewistown; siblings, Mildred Leonard, of Mexico, Pa., and Barry Walters, of Reedsville; grandchildren, Stephanie Flores, Rachel Gisewhite, Lindsey McCloskey, Taylor Bargo, Nicholas Bargo and Mitchell Bargo, and six great-grandchildren.

She was preceded in death by siblings, Russell Walters, Judy Murphy and Robert Walters.

She worked at Arrow Shirt Company and Fisher Electronics.

She graduated in 1950 [1953] from Tuscarora Valley High School and attended Milroy C.M.A. Church.

A service will be held at 2 p.m. on Tuesday, Feb. 24, 2015, at Bohn Funeral Home, Reedsville, with the Rev. David Schleh officiating. A viewing will be held an hour before the service at the funeral home. Interment will be held at Church Hill Cemetery, Reedsville.

In lieu of flowers, memorial contributions may be made to Milroy C.M.A. Church, 46 Elm St., Milroy, PA 17063.
| | |
| --- | --- |
| | Contributed by rkohler3 on 2/23/15 - Image Year: 1949 |
| | Contributed by rkohler3 on 3/17/20 - Image Year: 1952 |