Helen Leona (LEONARD) WERT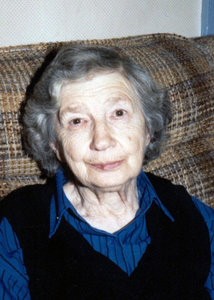 Click On Image To Enlarge
OBITUARY for HELEN LEONARD WERT

Port Royal - Helen L. Wert, 86, formerly of 42 First Street, Port Royal, died at 9:00 a.m. Tuesday, October 7, 2003 at Locust Grove Retirement Village, HCR 67, Mifflin, PA.

Born August 9, 1917, in Denholm, Juniata County, she was a daughter of the late Norman B. and Ida V. (Rapp) Leonard. Her husband, Jonathan M. Wert, preceded her in death on August 30, 1989.

Surviving are: children: Nancy A. Taylor, RR5, Mifflintown, Jonathan M. Wert, Jr., Port Royal, and James L., Charles R., and Donald R. Wert, all of RR2, Port Royal; sibling Mrs. James (Minnie) Sunderland, Altoona, Mrs. Russell (Joy) Walters, RR3, Mifflintown and Robert B. Leonard, Concord, NC; 23 grandchildren and 23 great-grandchildren.

She was preceded in death by a son, David A. Wert, on June 19, 1957, a daughter, Shirley Page on October 7, 1999, five brothers and six sisters.

She was a former employee of Rae-Sel Corp., Port Royal, PA

She was a member of the Port Royal Lutheran Church.

Funeral services will be held at 11 a.m. Friday, October 10 at Rex Funeral Home, Port Royal with Rev. James R. Sunderland, Jr. officiating. Interment will be at the Old Church Hill Cemetery, Port Royal, PA

Friends may call from 7-9 p.m. Thursday at the Rex Funeral Home and on Friday from 10 a.m. until the time of the service. The family will only be present on Friday from 10 a.m. until the time of the service.
| | |
| --- | --- |
| | Contributed by rkohler3 on 11/3/12 - Image Year: 1990 |
| | Contributed by rkohler3 on 11/4/13 - Image Year: 1985 |
| | Contributed by rkohler3 on 11/4/13 - Image Year: 1985 |
| | Contributed by jwert on 2/24/11 - Image Year: 1980 |