Robert E. "Bob" HOCKENBERRY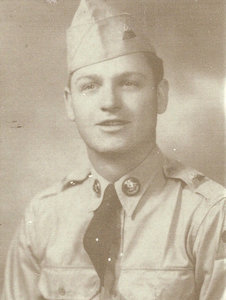 Click On Image To Enlarge
OBITUARY for ROBERT E. HOCKENBERRY

PORT ROYAL Robert E. Hockenberry Sr., 71, of P.O. Box 333, Port Royal, quietly slipped away to be with Jesus at 9:46 a.m. Sunday, Feb. 29, 2004, at the Lewistown Hospital.

Born April 15, 1932, in East Waterford, he was the son of the late Stella Hockenberry. His wife, Esther M. (Bender) Milliken Hockenberry, whom he married on Aug. 4, 1956, survives.

Also surviving are: two sons, Robert E. "Randy" Hockenberry Jr., Beaver Springs, and Benjamin H. Milliken Jr., Summerdale; a daughter, Mrs. Jack (Bonnie) Snodgrass, Harrisburg; three sisters, Mrs. Mac (Corrine) McLaughlin, Mifflintown, Mrs. Harry (Judy) Nace, McAlisterville, and Mrs. Robert (Bonnie) Benner, Mifflin; two brothers, Don Gussler, Lewistown, and Bill Hockenberry, Perry Village, New Bloomfield; six grandchildren; and four great-grandchildren.

He was a 1950 graduate of Juniata Joint High School, Mifflintown.

He retired in 1992 from the Pennsylvania Department of Transportation as a road supervisor.

He was veteran of Korea, having served in the U.S. Army.

He attended the Port Royal United Methodist Church and was a member of Friendship Fire Co., Port Royal. He helped organize and was a lifetime member of the Port Royal Ambulance Association and Medic 29. He also was a member of the Loyal Order of the Moose, Millerstown.

For 26 years, he was a flagman at the Port Royal Speedway. He loved to fly fish and hunt. He also had served on Port Royal Borough Council.

A funeral service will be held at 11 a.m. Wednesday at Rex Funeral Home, 308 Market St., Port Royal, with the Rev. Kenneth R. Kitzmiller and Rev. Dennis Thompson officiating. Interment will be in Old Church Hill Cemetery, Port Royal. Full graveside military services will be conducted by the Juniata County Veterans Council.

Friends may call 7-9 p.m. Tuesday at the funeral home.

Memorial donations may be made to: American Cancer Society, 26 N. Brown St., Lewistown, PA 17044 or to Port Royal United Methodist Church, P.O. Box 396, Port Royal, PA 17082.
| | |
| --- | --- |
| | Contributed by rkohler3 on 2/16/11 - Image Year: 1980 |
| | Contributed by rkohler3 on 8/5/21 - Image Year: 1980 |