George Lawrence "Larry" WERT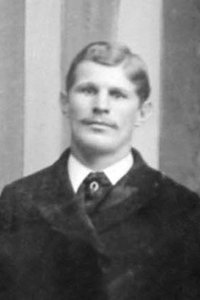 Click On Image To Enlarge
George Lawrence Wert, second child of Joseph Henry and Mary Hetrick Wert was born on May 20, 1872 at the home of his parents in Greenwood Township, Perry County. About 1900 the family moved to First Street, Port Royal, Pa., and built a large home next to the Juniata River.

On April 19, 1895, George married Laura Agnes Swartz (b. June 18, 1874) of Greenwood Township, Perry County. She was the daughter of Elias Swartz (b. Mar 23, 1847; d. Oct 8, 1915) and Susannah Reigle Swartz (b. 1852; d. Oct 30, 1925). Laura's grandparents on the Swartz side were Philip Swartz (b. 1817;d Oct 22, 1899) and Mary ____?____ Swartz (b. May 30, 1815; d. 1882). Her grandparents on the Reigle side were William John Reigle (b. Nov 28, 1829; d. Nov 26, 1908) and Catherine Wertz Reigle (b. May 29, 1832; d. May 23, 1896). George and Laura Agnes Swartz Wert had six children: Charles Henry Wert born 30 July 1895, Harry Sherman (Guss) Wert b. 12 March 1897, Mary Eleanor Wert Crozier born 23 March 1900, William Lawrence Wert born 18 October 1904, Park Roscoe Wert born 18 March 1907, and Jonathan Maxwell Wert born 27 June 1909.

George was a carpenter by profession having worked in such a capacity for the Pennsylvania Railroad, and in constructing homes in Mifflin and Juniata Counties. He also helped install the waterline from the Tuscarora Mountain Reservoir to Port Royal while employed by the Port Royal Borough. George and his sons constructed and operated the fish basket on the Juniata River below the mouth of the Tuscarora Creek up until about 1940. It was not uncommon to catch two to three bushel baskets full of eels during a night. People would pay about 25 cents for an eel, 5 to 10 cents more if it was skinned. George also operated an ice house which was located on a bank near the mouth of the Tuscarora Creek. Ice was sold to people for their ice boxes. The ice house was destroyed in the 1936 flood.

The Werts were members of the Port Royal Lutheran Church. George died on August 31, 1946. Laura died on August 4, 1942. They are buried in the New Church Hill Cemetery southwest of Port Royal, Pa.
| | |
| --- | --- |
| | Contributed by rkohler3 on 9/7/16 - Image Year: 1925 |