Beulah "Sis" (FOLTZ) REYNOLDS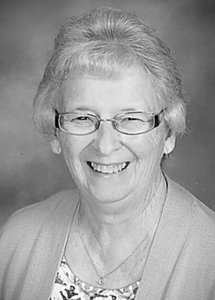 Click On Image To Enlarge
OBITUARY for BEULAH F. ?SIS? REYNOLDS

Beulah F. "Sis" Reynolds, 82, of Port Royal, passed away Thursday morning, July 23, 2015, at Locust Grove Retirement Village.

Born on Nov. 30, 1932, in Turbett Township, Juniata County, she was the daughter of the late Lewis D. and Beulah K. (Goodman) Foltz.

Her husband, William D. Reynolds, preceded her in death on July 27, 2007.

Surviving her are: a son, Kevin D. Reynolds and wife, Michelle, of York; a daughter, Janice R. Klinger and husband, Allen, of Lititz; grandchildren, Erin and Sara Reynolds, and Megan and Austin Klinger; and many nieces and nephews.

She was preceded in death by: an infant son, Craig Alan Reynolds; three brothers, Charles W. Foltz, Ray F. Foltz and Lewis M. Foltz; and a sister, Dorothy E. Landis.

Sis was a 1950 graduate of Tuscarora Valley High School, Port Royal.

Mrs. Reynolds retired from the First National Bank of Mifflintown, where she worked as a receptionist. She also served as a former tax collector for the Port Royal Borough.

She was a member of the Port Royal Lutheran Church where she actively served in many capacities.

Her funeral service will be held at 10:30 a.m. on Monday, July 27, 2015, at the Port Royal Lutheran Church with the Rev. Charles L. Hershberger officiating.

Interment will follow at the Lost Creek Presbyterian Cemetery, McAlisterville.
A viewing will be held on Sunday evening from 6 to 8 p.m. at the Rex Funeral Home in Port Royal.

In lieu of flowers, memorial contributions may be made in Sis's name to Port Royal Lutheran Church, PO Box 267, Port Royal, PA 17082.
| | |
| --- | --- |
| | Contributed by rkohler3 on 8/4/11 - Image Year: 1992 |
| | Contributed by rkohler3 on 12/29/10 - Image Year: 1962 |
| | Contributed by rkohler3 on 4/29/16 - Image Year: 1950 |
| | Contributed by rkohler3 on 5/13/17 - Image Year: 1948 |
| | Contributed by rkohler3 on 4/29/16 - Image Year: 1950 |