Evard N. MELOY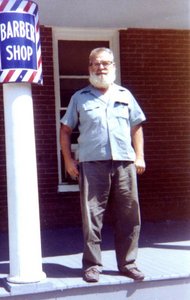 Click On Image To Enlarge
Evard N. MELOY (31 Aug 1902 - 9 May 1993)

OBITUARY:

Evard N. Meloy, 90 of Port Royal, died at 6:40 p.m. Sunday, May 9, 1993 at his home.

Born August 31, 1902 in Port Royal, he was the son of the late Charles L. and Margaret [Moyer] was preceded in death by his wife, Ida E. [Kepner] Meloy, on March 16,1987.

Surviving are: a daughter, Mrs. Walter [C. Leatrice] Eichenberger; Erie; a sister; Mrs. Robert [Helen] Rice, Elizabethtown; two grandchildren; and a great-grandchild.

He was a retired engineer for the Pennsylvania Railroad.

He was a member of the Port Royal Presbyterian Church, Turbett Grange No 781, the United Transportation Union Local 0830 and the Independent Order of Odd Fellows Lodge No. 380, New Bloomfield

He was a life member of the Brotherhood Locomotive Firemen and Engineermen and the Port Royal Ambulance Club.

Services will be held at ll:00 a.m. Wednesday at the Rex Funeral Home, Port Royal, with Rev. Richard E. Wright officiating. Interment will be in the Old Church Hill Cemetery, Port Royal.
| | |
| --- | --- |
| | Contributed by rkohler3 on 8/20/10 - Image Year: 1915 |
| | Contributed by rkohler3 on 8/28/10 - Image Year: 1921 |
| | Contributed by rkohler3 on 1/5/11 - Image Year: 1962 |
| | Contributed by rkohler3 on 2/21/13 - Image Year: 1962 |
| | Contributed by rkohler3 on 1/27/20 - Image Year: 1990 |