Grocery Store - Crozier - Saylor - Aumiller
Market St.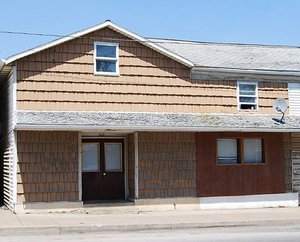 Click On Image To Enlarge
George Graham CROZIER was born in Carlysle in 1866 and died in Port Royal in 1926. He operated a general merchandise and grocery store on Market Street in Port Royal. He was a manufacturer of ice cream and served as both a wholesale and retail dealer in this product. During the Wilson Administration the former ice cream parlor served as a post office for the town.

A note appeared in the October 1, 1913 edition of the Port Royal Times that he was building an addition 16 x 40 to his store in Port Royal and when completed will have a modern and up-to-date ice cream parlor with an entrance from the street.

During the 1920s the store was owned and operated by William H. Saylor.

In 1938 this store was purchased by Richard "Dick" Aumiller to be operated as Aumiller's Store and later as Aumiller's Super Market. The following note appeared in the Port Royal Times of April 26, 1938: "Aumiller & Clark, the local butchers, have purchased the Saylor store stand on Market Street, Port Royal, Pa., and will move their business into the same in the near future."

Dick Aumiller had learned the butchering trade from his father Percy Aumiller in East Waterford.

The Aumillers sold the store to their son-in-law and daughter Wendall and MaryLou Longenecker in 1970 before it was purchased and operated by Don and Helen Kepner. The last store owners were John and Vickie Henry.

Today (2009) the building is used to house apartments.
| | |
| --- | --- |
| | Contributed by rkohler3 on 9/11/09 - Image Year: 1910 |
| | Contributed by rkohler3 on 9/24/09 - Image Year: 1912 |
| | Contributed by rkohler3 on 2/1/20 - Image Year: 1890 |
| | Contributed by rkohler3 on 9/11/09 - Image Year: 1920 |
| | Contributed by rkohler3 on 1/8/12 - Image Year: 1950 |
| | Contributed by rkohler3 on 3/9/13 - Image Year: 1950 |
| | Contributed by ray on 1/8/12 - Image Year: 1954 |
| | Contributed by ray on 1/8/12 - Image Year: 1954 |
| | Contributed by rkohler3 on 1/8/12 - Image Year: 1955 |
| | Contributed by ray on 1/8/11 - Image Year: 1967 |
| | Contributed by rkohler3 on 3/11/13 - Image Year: 1936 |
| | Contributed by rkohler3 on 2/11/20 - Image Year: 1946 |
| | Contributed by rkohler3 on 3/14/13 - Image Year: 1953 |
| | Contributed by ray on 3/26/13 - Image Year: 1970 |
| | Contributed by rkohler3 on 11/26/09 - Image Year: 1889 |
| | Contributed by rkohler3 on 11/26/09 - Image Year: 1904 |
| | Contributed by rkohler3 on 11/26/09 - Image Year: 1911 |
| | Contributed by rkohler3 on 11/26/09 - Image Year: 1928 |