Railroad - Tuscarora Valley - Transfer
Tuscarora Valley Railroad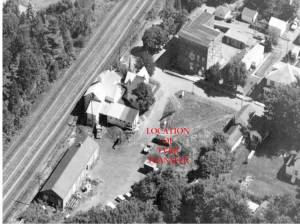 Click On Image To Enlarge
The TRANSFER area was a place just north of Port Royal where the tracks of the Tuscarora Valley Railroad ran along side a spur of the Pennsylvania Railroad and where the TVRR and the PRR interchanged freight or other cargo.

When freight was to be transferred from the standard gauge PRR to the 3 foot gauge TVRR, the PRR would spot a boxcar on their siding, and the TVRR would spot two smaller narrow gauge box cars across the platform and the freight would be transferred by hand.

Transfer would also permit a PRR coal car to be parked on the spur and coal to be offloaded onto the tender of the Tuscarora Valley train. A coal trestle existed at this location to facilitate the unloading of coal for use by the TV.
| | |
| --- | --- |
| | Contributed by rkohler3 on 11/19/09 - Image Year: 1934 |
| | Contributed by rkohler3 on 11/19/09 - Image Year: 1934 |
| | Contributed by rkohler3 on 11/19/09 - Image Year: 1934 |
| | Contributed by rkohler3 on 11/19/09 - Image Year: 1992 |
| | Contributed by rkohler3 on 11/19/09 - Image Year: 1992 |
| | Contributed by rkohler3 on 11/19/09 - Image Year: 1923 |
| | Contributed by rkohler3 on 11/19/09 - Image Year: 1987 |
| | Contributed by ray on 3/2/13 - Image Year: 1913 |
| | Contributed by rkohler3 on 11/19/09 - Image Year: 1922 |
| | Contributed by rkohler3 on 11/19/09 - Image Year: 1987 |
| | Contributed by rkohler3 on 11/19/09 - Image Year: 1935 |
| | Contributed by ray on 11/19/09 - Image Year: 1922 |
| | Contributed by rkohler3 on 11/19/09 - Image Year: 1934 |
| | Contributed by rkohler3 on 11/19/09 - Image Year: 1934 |
| | Contributed by ray on 11/19/09 - Image Year: 1934 |
| | Contributed by rkohler3 on 11/19/09 - Image Year: 1934 |
| | Contributed by rkohler3 on 11/19/09 - Image Year: 1935 |
| | Contributed by rkohler3 on 1/29/12 - Image Year: 1934 |
| | Contributed by rkohler3 on 11/19/09 - Image Year: 1934 |