Railroad - Tuscarora Valley - PRR Freight House
Tuscarora Valley Railroad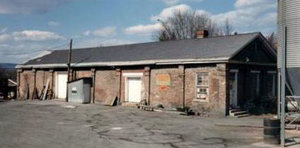 Click On Image To Enlarge
The Pennsylvania Railroad Freight House was a brick structure built by the PRR in 1858 for loading and unloading cargo near the Port Royal Station. The structure had a footprint of 33 feet by 100 feet. The building was located north of the Wisehaupt Grain Elevator and sat along a siding from the main line of the PRR Middle Division.

Much of the Tuscarora Valley Railroad's activity that occurred in Port Royal occurred in front of the PRR Freight House. Cargo would be transferred to and from the TV at this location. Since the TVRR had no station at Port Royal, passengers would board the train in front of this building.

Attached are two maps that show the location of the freight house in relation to the other buildings and two rail lines. In addition there are photos of the building as it appeared in the background of the railcars. Two pictures as it appeared while being used by the neighboring mill in 1986. Finally there is a photo of the building as modeled by Professor George N. Pierson for his HO layout.
| | |
| --- | --- |
| | Contributed by rkohler3 on 11/22/09 - Image Year: 1910 |
| | Contributed by rkohler3 on 11/17/09 - Image Year: 1986 |
| | Contributed by rkohler3 on 11/16/09 - Image Year: 1930 |
| | Contributed by rkohler3 on 12/2/09 - Image Year: 1904 |
| | Contributed by rkohler3 on 11/17/09 - Image Year: 2009 |
| | Contributed by rkohler3 on 11/17/09 - Image Year: 1898 |
| | Contributed by rkohler3 on 11/16/09 - Image Year: 1922 |
| | Contributed by rkohler3 on 11/16/09 - Image Year: 1922 |
| | Contributed by rkohler3 on 11/17/09 - Image Year: 1922 |
| | Contributed by rkohler3 on 11/17/09 - Image Year: 1922 |
| | Contributed by rkohler3 on 11/17/09 - Image Year: 1925 |
| | Contributed by rkohler3 on 11/16/09 - Image Year: 1934 |
| | Contributed by rkohler3 on 11/17/09 - Image Year: 1935 |