School - Old Port (One Room)
Old Port (Rt. 333)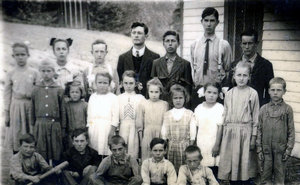 Click On Image To Enlarge
Old Port School was one of the one room elementary schools located in Turbett Township. Others were Mount Hope and Freedom. Old Port School closed approximately 1944 and Nellie L. Taylor was the last teacher there. There were students Grades 1-6 in this one room school house. Those were wonderful school days and lots of school memories.

Until the opening of the Tuscarora Valley Elementary School, Old Port students were bussed to Freedom school about 8 miles up route 75.

After its use as a school building, the school was turned into a private residence and the Bardell family resided there for a number of years in the mid twentieth century.
| | |
| --- | --- |
| | Contributed by rkohler3 on 10/4/09 - Image Year: 1924 |
| | Contributed by jglennel on 10/2/09 - Image Year: 1943 |
| | Contributed by jglennel on 10/2/09 - Image Year: 1944 |