705 Market Street
Market St.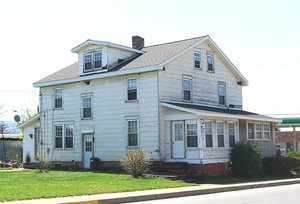 Click On Image To Enlarge
This is a large double house and it sits on the southeast corner of the intersection of Market and Eighth Streets. (This house was built between 1911 and 1928 because it does not appear on the Sanborn Fire Insurance map of 1911 but does appear on their 1928 map. This house sits on a lot that extends between 7th and 8th Streets. The 1911 Sanborn map shows a dwelling at the corner of Market and Seventh Streets with several buildings behind it. The dwelling and those buildings must have been torn down when this large double house was built since they do not appear on the 1928 Sanborn map.)

During the middle part of the twentieth century it was the home of the Guy and Nellie Gilson, Gerald "Bud" and Edwina Bryner and children, Connie and Stephen. For a short period of time it was the home of Leon Kepner and his family.

In the Spring of 2009 the building was owned by Bryan Imes.
| | |
| --- | --- |
| | Contributed by rkohler3 on 12/24/10 - Image Year: 1950 |
| | Contributed by rkohler3 on 5/23/14 - Image Year: 2007 |
| | Contributed by rkohler3 on 11/9/09 - Image Year: 1889 |
| | Contributed by rkohler3 on 11/9/09 - Image Year: 1904 |
| | Contributed by rkohler3 on 11/9/09 - Image Year: 1911 |
| | Contributed by rkohler3 on 11/9/09 - Image Year: 1928 |