602 Market Street
Market St.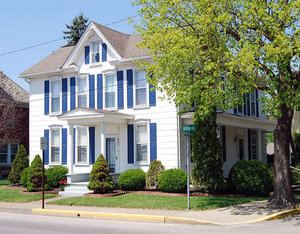 Click On Image To Enlarge
This house sits on the northwest corner of the intersection of Market and Sixth Streets. (This house was built between 1904 and 1911 because it does not appear on the Sanborn Fire Insurance map of 1904 but does appear on their 1911 map.)

At one time it was the home of the Samuel Short family. This is what Jane Short Hower wrote of living there: It wasn't long till we moved up the street to the house where Paul Smith now lives. This was closer to a lot of things; the fair grounds, for instance. One 4th of July, "Muggs" Frankhouse, Jr., who lived across the street, broke his leg running away from a firecracker that he had set off in the middle of the street. He still had his leg in a cast at fair time, so we took turns taking him to the fair grounds to run his concession. It was a good way to get into the fair free. This was closer for us to go to high school, too. "

After which it was the home of Paul and Anna (Groninger) Smith. Paul operated a photo studio out of the first floor of the house.

The house is currently owned by Dennis and Georgia (Hower) Hutchings.
| | |
| --- | --- |
| | Contributed by rkohler3 on 5/23/14 - Image Year: 2007 |
| | Contributed by rkohler3 on 9/25/09 - Image Year: 1935 |
| | Contributed by rkohler3 on 11/9/09 - Image Year: 1889 |
| | Contributed by rkohler3 on 11/9/09 - Image Year: 1904 |
| | Contributed by rkohler3 on 11/9/09 - Image Year: 1911 |
| | Contributed by rkohler3 on 11/9/09 - Image Year: 1928 |