School - Port Royal Elementary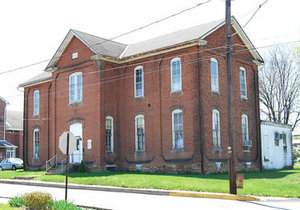 Click On Image To Enlarge
Research by Wayne Taylor indicates that two elementary school buildings have stood on this location at the southwest corner of Fourth and Milford Streets.

The first was built in 1870 and appears to have been smaller than the second building and cost about $1500.00 plus an additional $223.00 for the lot. This first building was dismantled in 1889 due to rotting timbers.

The current or second building was erected in 1889. As originally configured the building had four classrooms on two floors in addition to a basement. There were two rooms on each side of a central stairway on each floor.

The February 20, 1890 edition of the Port Royal Times contained the following note: "The citizens of Port Royal
should feel proud of the new school house, as every stranger who comes to our town speaks in the highest terms of it. The election for the increase of indebtedness asked for by the School Board to pay for the new schoolhouse, was held on Tuesday, February 18, 1890."

Another note appeared in the Port Royal Times of August 21, 1912: "Concrete steps have been put down in front of the public school building on 4th St., in Port Royal. The school directors have also decided to put down a granolithic walk in front of the same building."

The building was used as the town's elementary school until a new building was constructed near the Fair Grounds on Eighth Street.

When the first two buildings were being used they served only students from the borough. However, when the new school was constructed at Eighth Street, students from the surrounding townships of Turbett and Spruce Hill were brought to Port Royal and their one room schools were closed.
| | |
| --- | --- |
| | Contributed by rkohler3 on 9/1/11 - Image Year: 2011 |
| | Contributed by rkohler3 on 8/3/09 - Image Year: 1920 |
| | Contributed by rkohler3 on 3/1/13 - Image Year: 1930 |
| | Contributed by rkohler3 on 11/19/09 - Image Year: 1987 |
| | Contributed by rkohler3 on 11/21/09 - Image Year: 1889 |
| | Contributed by rkohler3 on 11/21/09 - Image Year: 1904 |
| | Contributed by rkohler3 on 11/21/09 - Image Year: 1911 |
| | Contributed by rkohler3 on 11/21/09 - Image Year: 1928 |
| | Contributed by rkohler3 on 8/3/09 - Image Year: 2009 |
| | Contributed by rkohler3 on 5/5/14 - Image Year: 2007 |
| | Contributed by garth on 5/8/11 - Image Year: 1910 |
| | Contributed by garthe on 5/8/11 - Image Year: 1915 |
| | Contributed by garthe on 5/8/11 - Image Year: 1918 |
| | Contributed by garthe on 5/8/11 - Image Year: 1920 |
| | Contributed by garthe on 5/8/11 - Image Year: 1922 |
| | Contributed by garthe on 5/8/11 - Image Year: 1923 |
| | Contributed by garthe on 5/8/11 - Image Year: 1928 |
| | Contributed by rkohler3 on 6/30/16 - Image Year: 1928 |
| | Contributed by garthe on 5/8/11 - Image Year: 1930 |
| | Contributed by hbgb1925 on 10/27/10 - Image Year: 1937 |
| | Contributed by garth on 5/8/11 - Image Year: 1954 |