502 Market Street
Market St.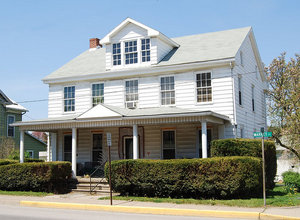 Click On Image To Enlarge
This house sits on the northwest side of the 500 Block of Market Street. (This house was constructed between 1911 and 1928 because it does not appear on the Sanburn Fire Insurance Map of 1911 but is on their 1928 map. The 1911 map shows two dwellings on this lot while the 1928 map shows the single dwelling situated as it currently stands. The two dwellings were probably torn down to build the current one.)

At one time it was the home of Robert and Louise (Leeper) Groninger and their children LouAnn and Robert. Mrs. Plant, the widow of a former Methodist Minister lives in the house now.
| | |
| --- | --- |
| | Contributed by rkohler3 on 5/24/14 - Image Year: 2007 |
| | Contributed by rkohler3 on 11/13/09 - Image Year: 1889 |
| | Contributed by rkohler3 on 11/13/09 - Image Year: 1904 |
| | Contributed by rkohler3 on 11/13/09 - Image Year: 1911 |
| | Contributed by rkohler3 on 11/13/09 - Image Year: 1928 |