501 Market Street
Market St.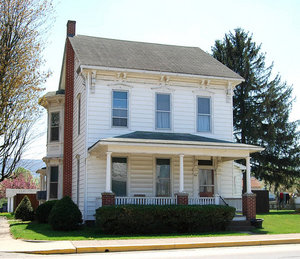 Click On Image To Enlarge
This house sits on the southwest corner of the intersection of Market and Fifth Streets. (This house was constructed before 1889 because it does appear on the Sanburn Fire Insurance Map of that year. The 1889 map shows two houses to the west of this house. Both were apparently torn down when the 507 Market Street property was constructed.)

For much of the Twentieth Century it was the home of Frank and Grace (Reed) Beale and then their son, Frank and Marian (Crimmel) Beale. Frank Sr. was a carpenter for the PRR and his son, Frank was a school teacher and principal and Marian, a nurse.
| | |
| --- | --- |
| | Contributed by rkohler3 on 5/24/14 - Image Year: 2007 |
| | Contributed by rkohler3 on 11/13/09 - Image Year: 1889 |
| | Contributed by rkohler3 on 11/13/09 - Image Year: 1904 |
| | Contributed by rkohler3 on 11/13/09 - Image Year: 1911 |
| | Contributed by rkohler3 on 11/13/09 - Image Year: 1928 |