222 Market Street
Market St.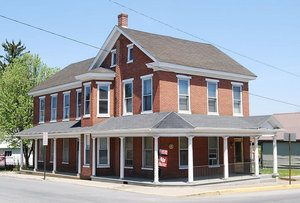 Click On Image To Enlarge
This large house sits on the northeast corner of Market and Third Streets. Early in the 1900s, George T. Kepner operated a livery stable from the back of this property. He would hire out teams to people who arrived in Port Royal via the Pennsylvania Railroad.

Some time after this, the Samuel Short family lived in this house. Jane Short Hower writes the following: "We came to Port Royal on June 30, 1934, my birthday (never mind which one). Dad was just beginning his first term as Juniata County Superintendent of Schools. Our first home was the big brick house across the street from the post office, where Cricket Shellenberger now lives. About all that I can remember about living there was that it was difficult to sleep in the front bedroom of the house, the one facing the post office. The reason was that there was a clock in front of the post office (I think it advertised Bashore's Hardware). The clock was surrounded by a bright green light which beamed directly into the eyes of anyone trying to sleep in the front bedroom of the house across the street."

After the Shorts, for many years this building served as both the home and barber shop of Loraine "Cricket" Shellenberger. Cricket was married to Esther M. (Schwab) Shellenberger and they had four children: Jessie, Leo, Charles and Patsy. Cricket also sold New Home Sewing Machines and fixed radios in his spare time.

It appears that the house has been turned into rental units.
| | |
| --- | --- |
| | Contributed by rkohler3 on 11/19/09 - Image Year: 1992 |
| | Contributed by rkohler3 on 11/19/09 - Image Year: 1992 |
| | Contributed by rkohler3 on 5/25/14 - Image Year: 2007 |