Restaurant - Hackedorn
Market St.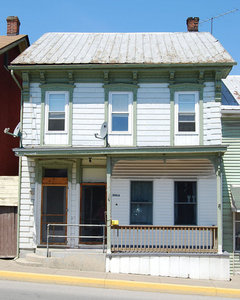 Click On Image To Enlarge
This house sits on the north side of Market Street.

It has housed a restaurant for much of its life. William Musser, who had a restaurant on First (Water) Street moved to this location formerly owned by Joe Keister. Since that time, it has been owned and operated as a restaurant by Frank Milliken, Elmer Dolan, John Emery and for about four to five decades, by Frank and Belva Jane (Milliken) Hackedorn. They lived in the upstairs and operated a restaurant out of the first floor.

According to an interview with Frances Kauffman Crimmel conducted by Carlen McClure in 2009, Frederick Richer Carpenter (father of teacher Philip Carpenter) operated a small tailor shop in the west portion of this building some time in the past.

Since the house number shows 206A, the building may have been divided into two living units.
| | |
| --- | --- |
| | Contributed by rkohler3 on 3/7/13 - Image Year: 1940 |
| | Contributed by ray on 3/7/13 - Image Year: 1925 |
| | Contributed by rkohler3 on 3/5/13 - Image Year: 1927 |
| | Contributed by rkohler3 on 3/6/13 - Image Year: 1930 |
| | Contributed by rkohler3 on 3/7/13 - Image Year: 1930 |
| | Contributed by rkohler3 on 3/7/13 - Image Year: 1935 |
| | Contributed by rkohler3 on 3/13/13 - Image Year: 1949 |