Service Station - Point
Eighth St.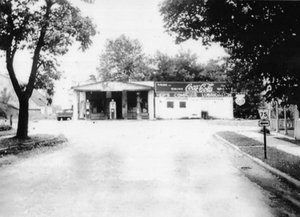 Click On Image To Enlarge
The Point Service Station has been a landmark in Port Royal since the advent of motorized vehicles. For much of its existence the service station was at the west end of Market Street. At the Point, Market Street was dead ended and Route 75 traffic had to make a sharp left turn onto 8th Street and then proceed out Town Lane to get to Old Port. (One of the photos clearly shows the Route 75 sign directing traffic to the left.) When the road was rerouted to connect with the bridge across the Tuscarora Creek, the original service station building was torn down and a new cinder block building was constructed at on the northwest corner of Eighth and Market Streets.

The Point has been owned and managed by a number of persons. The following may not be in chronological order: Luther "Tubbie" Pfahler, Stewart Leyder, "Red" Emery, Glen Kepner, "Skip" Bitting, Paul Moyer, Ray Ard, Paul Williams, Charlie Williams, "Sonny" Mahlin and Brian Ehrenzellers.

Still the Point wasn't the only service station in the town. There have been other stations located on Tyson Hill, on Market Street and at the intersection of Routes 75 and 333.
| | |
| --- | --- |
| | Contributed by ray on 3/7/13 - Image Year: 1930 |
| | Contributed by rkohler3 on 1/13/11 - Image Year: 1938 |
| | Contributed by rkohler3 on 12/5/19 - Image Year: 1944 |
| | Contributed by rkohler3 on 11/30/19 - Image Year: 1955 |
| | Contributed by rkohler3 on 3/14/13 - Image Year: 1950 |
| | Contributed by ray on 3/14/13 - Image Year: 1945 |
| | Contributed by rkohler3 on 3/13/13 - Image Year: 1949 |
| | Contributed by rkohler3 on 3/14/13 - Image Year: 1949 |
| | Contributed by admin on 8/3/09 - Image Year: 1958 |
| | Contributed by rkohler3 on 3/14/13 - Image Year: 1960 |
| | Contributed by rkohler3 on 3/14/13 - Image Year: 1960 |
| | Contributed by rkohler3 on 12/5/19 - Image Year: 1967 |
| | Contributed by rkohler3 on 9/26/19 - Image Year: 1990 |
| | Contributed by rkohler3 on 12/28/10 - Image Year: 1995 |
| | Contributed by rkohler3 on 3/16/13 - Image Year: 1990 |
| | Contributed by rkohler3 on 3/14/13 - Image Year: 1970 |
| | Contributed by ray kohler on 8/3/09 - Image Year: 2009 |
| | Contributed by rkohler3 on 5/4/14 - Image Year: 2007 |
| | Contributed by ray on 5/23/14 - Image Year: 2007 |