General Store - Foltz
Sixth St.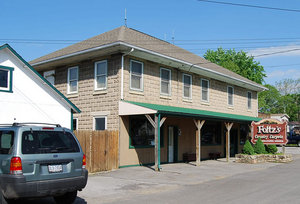 Click On Image To Enlarge
The building is located on the west side of Sixth Street, half way between Milford and the lower gate to the Juniata Fair Grounds. It was built by Charles V. Swartz in 1925. Swartz operated a garage and grocery store on the first floor. The second floor served as a community recreation center. Dances, motion pictures and even wedding receptions were held there. To some it served as Port Royal's first community center.

L. O. "Cricket" Shellenberger had his first barber shop in this building.

In 1946, Swartz sold the businesses to William and Ella Parsons. They owned it a short time before selling it in 1948 to Charles W. and Ruth (Ernest) Foltz. (See newspaper clipping below.)

The Foltzes operated as Foltz's Community Pure Food Store. Charles, Ruth and their children lived above the store when they operated it, so apparently it had been renovated as a living space. Charles Foltz operated the store at this location until his retirement in 1985.

Upon Charles' retirement the business was transferred to his son and daughter-in-law, Philip and Angie Foltz. Phil and Angie changed the name to Foltz's Country Carpets.
| | |
| --- | --- |
| | Contributed by rkohler3 on 2/28/13 - Image Year: 1930 |
| | Contributed by rkohler3 on 11/2/19 - Image Year: 1948 |
| | Contributed by ray on 3/6/13 - Image Year: 1929 |
| | Contributed by rkohler3 on 3/7/13 - Image Year: 1930 |
| | Contributed by rkohler3 on 10/6/19 - Image Year: 1948 |
| | Contributed by rkohler3 on 3/13/13 - Image Year: 1949 |
| | Contributed by rkohler3 on 3/14/13 - Image Year: 1953 |
| | Contributed by ray on 11/2/19 - Image Year: 1955 |
| | Contributed by rkohler3 on 9/22/09 - Image Year: 1950 |
| | Contributed by rkohler3 on 10/23/09 - Image Year: 2009 |
| | Contributed by rkohler3 on 11/18/09 - Image Year: 1960 |
| | Contributed by rkohler3 on 5/8/14 - Image Year: 2007 |