Odd Fellows Hall
Market St.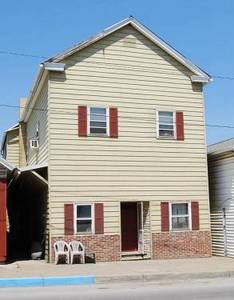 Click On Image To Enlarge
This building is often referred to as the Odd Fellows building. It was so named because the second floor of the building was the meeting house of the Independent Order of Odd Fellows (IOOF) and its female group, the Rebekahs.

The lower floor of the building was often used for commercial purposes. At one time, it was used as Bitner's "Fleetwings" pool hall, Sterrett's, Heckerman's, Phillips and later Suloff's Drug Store. (Suloff's eventually moved to the middle of the 200 Block.) Still later, Marion Groninger and Ethel Bergstresser operated a women's clothing store called the "Mariette Shoppe".

During the time the Sterretts owned the business, the following advertisement appeared in the Port Royal Times:

STERRETT & SON (Successor to J. P. Sterrett) (1882)

Druggists & Pharmacists, Market Street

The firm is the representative house in the drug trade of the Borough of Port Royal. It has been established for the past seven years. The store occupied is a fine frame building of 40x22, and is located on the chief business street. The stock comprises every article usually found in a first-class druggist establishment, including paints, oils and glass, and a fine class of fancy articles, stationery and toilet goods, books, etc. Prescriptions are currently compounded, and none but the best medicines are used. The stock bears a value of $2,000, and sales are equal to $3,000 per year, the trade extending over the best part of the country surrounding. The individual members of the firm are J. P. Sterrett, a native of Juniata County, now a practicing physician and resident of Pittsburg, and R. M. Sterrett, also a native of Juniata County, this gentleman devoting his entire professional abilities to the establishment.

Today the building is used as an apartment house.
| | |
| --- | --- |
| | Contributed by rkohler3 on 8/3/09 - Image Year: 1910 |
| | Contributed by rkohler3 on 9/11/09 - Image Year: 1920 |
| | Contributed by rkohler3 on 3/13/13 - Image Year: 1949 |
| | Contributed by rkohler3 on 11/26/09 - Image Year: 1889 |
| | Contributed by rkohler3 on 11/26/09 - Image Year: 1904 |
| | Contributed by rkohler3 on 11/26/09 - Image Year: 1911 |
| | Contributed by rkohler3 on 11/26/09 - Image Year: 1928 |