Grocery Store - On Wheels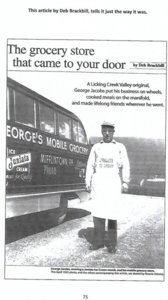 Click On Image To Enlarge
THE GROCERY STORE THAT CAME TO YOUR DOOR
by Deb Brackbill

GEORGE S. HART JACOBS

Before supermarkets and big-box stores became the norm, peddlers sold wares door to door. The representatives of Jewel Tea and Fuller Brush were familiar faces in neighborhoods across the country. There were also a few enterprising salesmen who struck out on their own. Juniata County residents say that a man known as 'Peg-Leg' Swartz once drove a horse and buggy through parts of the county, selling fresh fish and vegetables. Another entrepreneur, "Moogie" Roseman, had a walk route because he was mute, he wrote notes to communicate with customers.

One of Juniata County's best-known and most popular salesman was George Jacobs.

While growing up in the Mifflin area. George's swimming skills were well known. People remarked on his ability to swim the length of Zook's Dam six or seven limes at a clip. Not surprisingly, his duties while in the military included sea rescues.

When he returned from the service he decided to work as a grocer. He rented a small house in Licking Creek Valley owned by "Jocko" Walters and set up a store. He also bought a panel truck from Mifflin store owner Andy Zendt, and started selling baked goods door-to-door. He was busy, but it just wasn?t quite what he had in mind.

Around that time. George met Stella (Nipple) Shivery and her young son, Ronnie. The couple married in 1953 and George moved to her home at the end of Factory Lane in Licking Creek Valley. He moved his store to a shed on the property and bought a used school bus that he planned on converting to a mobile grocery. Lester Brackbill painted it by hand and local craftsmen helped build shelves, bins, and install coolers. Pictures painted on the sides advertised some of the products George offered.

George's stock included Juniata Ice Cream from Mifflin Creamery in Mifflintown; bread and assorted baked goods from Letterman's Bakery on Valley Street, Lewistown; candy from Lewistown Candy Company and meat from Knepp's Meat Market (he later switched to Barton?s Meat Market). He also carried fruit and vegetables obtained from local merchants, plus potato chips and sodas. To keep down canned goods costs, George and Mifflintown store keeper Jerry Meyer went together. They placed large orders with Harrisburg Groceries, and then divided them up.

Clifford Horning, a neighbor, made trips to the Atlantic shore to pick up fresh fish for George. When George could get away, he went along and the duo would do some fishing while they were there.

George decided to run two routes, a short one on Tuesdays and a longer one on Saturdays. Starting out early in the morning, his first stop was usually at Lizzie Shover's. He then made stops down Licking Creek Valley, traveled across Varnes Road, down Route 333 to Lehman's covered bridge, then up the Lion's Park Road to Groninger Valley. He'd stop at the Crozier farm turn toward Academia, then back on Route 35 at Nook. He'd stop at the "old Martin place." go up to Bob Woodward's on Anderson Ridge where he'd turn, and come hock home by way of Route 35. Hunters and fishermen got to know when he was coming through, and they'd watch for him and flag him down so they could buy snacks. On long-route days, he didn't make it home until around 7p.m. 0ver the years George tried making changes to the routes but always came back to his original plan. Back at the house, Stella keeps the store going.

By 1955, George was selling soda and chips off his back porch, and the Jacobs' place became the local hangout.

ln 1969, George and Stella decided to give up the bus route. They continued selling groceries from their home until January 1971.

Stella died in February 2000 and George in May 2004.
| | |
| --- | --- |
| | Contributed by rkohler3 on 7/6/18 - Image Year: 1950 |