315 Tuscarora Street (Fiddler's Green)
Tuscarora (Fiddler's Green) St.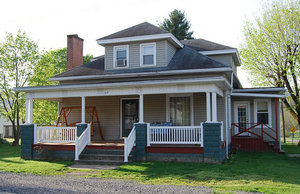 Click On Image To Enlarge
For a long time this property was known as the Samuel Short home. Mr. and Mrs. Short and their children lived there for many years. Mr. and Mrs. Short were at one time missionaries in China. Later Mr. Short served as Superintendent of Schools of Juniata County. Prior to the Shorts occupying this property, a Lawrence Walters and his wife lived there, along with their daughters Kenyon Walters and Patsy Stutts. Prior to that time the home was owned and occupied by a man by the name of EIi Harmon. Mr. Harmon built this home. He was a lumberman. His sawmill was located next to his home (where the Heckert home is now). After the Shorts were gone the Milliken family purchased the home. Two Milliken brothers still own and occupy this house.

(Recollection from JoAn Bashore Slautterback of the houses, owners, and occupants of Fiddlers Green, from the late 30s and 40s. as published in the Port Royal Times 2004.)

This house was built after 1928 because it does not appear on the Sanborn Fire Insurance Map of that year.
| | |
| --- | --- |
| | Contributed by rkohler3 on 5/5/14 - Image Year: 2007 |
| | Contributed by rkohler3 on 11/29/09 - Image Year: 1885 |
| | Contributed by rkohler3 on 11/29/09 - Image Year: 1889 |
| | Contributed by rkohler3 on 11/29/09 - Image Year: 1904 |
| | Contributed by rkohler3 on 11/29/09 - Image Year: 1911 |
| | Contributed by rkohler3 on 11/29/09 - Image Year: 1928 |